Rarefacció: Hypermedium showcase: Evol / NPLGNN / Tutu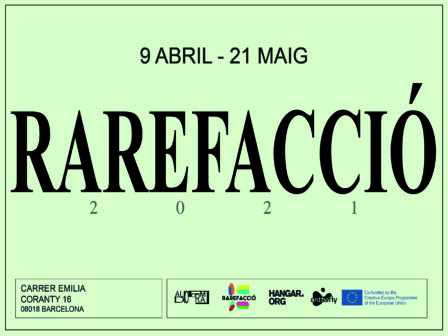 On May 7 at 6 pm Hangar presents the fifth session of Rarefacció, a cycle curated by Sergi Botella that aims to present proposals that revolve around music and sound from an experimental and unconventional point of view. The guests for this session are Evol, NPLGNN and Tutu. In addition, the session is supported by MUTEK ES.
Hypermedium showcase: Evol / NPLGNN / Tutu
Date: May 7, 2021
Time: 6 pm
Price: € 3 + tote bag as a gift
Rarefacció's audio will be available live at https://live.hangar.org/#rarefaccio
Drawing inspiration from algorithmic methods of synthesis, fractal geometry, chaotic systems and quantum theory on the one hand and "hoovers" – the trademark sound of 90's rave music – as well as the psychedelic impact of techno on the other, EVOL (Roc Jiménez de Cisneros) has managed to bridge two seemingly different worlds, creating his very own musical idiom that he has coined "computer music for hooligans". Using archetypal synthesizers, programming languages and unusual sound sources such as air horns, his compositions flow across minimalist digital noise, frenzied and abstract sound collages and the dynamic acid de-compositions of his recent releases. EVOL records have been released by labels such as Mego, Entr'acte, Presto!? and Roc's very own Alku and collaborators include Russell Haswell, Mark Fell and Francisco López.
The music of NPLGNN (Giovanni Napolano) operates between mutant ravey sounds and more abstract experimentation. After a first appearance on Nute records he released his first record on Where To Now?, a debut described as "pre-babel language of dance music". More recently he has released music on Phonica sub-label OKNO, Boomkat's Reel Torque and LavaLava records. Aside from being a resident at Noods radio in Bristol, he also runs a mixtape series called MBE series, under which he has released mixtapes from Beatrice Dillon, Conor Thomas and Yousuke Yukimatsu.
Tutu's sessions are odes to life, between pure adrenaline and the most genuine curiosity. Like windows that open to horizons both near and far, her sets traverse the landscape with the same intensity with which she lives other creative facets of her life. With a spectrum of sounds that range from bass house to cosmic trance, abstract grime, tribal
abstract grime, schizophrenic tribalism and acid techno, Tutu's mixers can move from underground dance to the most experimental sounds, directing the feet and keeping the brain engaged with sensations on the edge of its seat.
The event will be carried out following all security measures.
Attendance will be on a first-come, first-served basis.
* Dave Saved's performance has been cancelled due to travel restrictions resulting from the health crisis.
This session is supported by MUTEK ES.