Rarefacció: Balago / Mbodj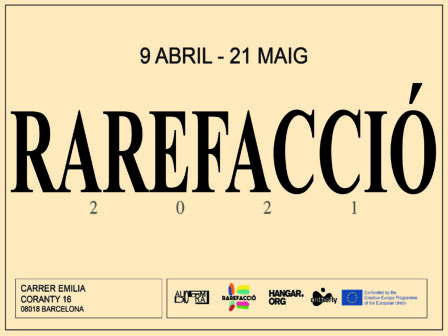 On 14 May at 6 pm, Hangar will be presenting the sixth session of Rarefacció, a cycle curated by Sergi Botella that aims to present proposals that revolve around music and the underbelly of an experimental and unconventional viewpoint. The guests for this session are Balago and Mbodj.
Balago / Mbodj
Date: May 14, 2021
Time: 6 pm
Price: 3 euros
Rarefacció's audio will be available live at https://live.hangar.org/#rarefaccio
Between "El demà" (Foehn, 2018), whose title already advanced a point and followed in the trajectory of balago, and "Els altres" (Foehn, 2020) only two years have passed, but the creative pulse and the musical idea of David Crespo's project have been completely reformulated. Already alien to any conventional structure, to any classical concept of song, with an astonishing freedom of movement, the seventh album of the band from La Garriga enters with unexpected comfort in the field of sound collage: three long pieces, between 13 and 23 minutes, make up the backbone of the most risky, rupturist and radical release that the band can be remembered to date.
Each block of the three that make up the album is a universe of its own, full of nooks and crannies, winks, declared and undeclared influences, subliminal messages, intentions, script twists, indecipherable samples and ideas, countless ideas. On the surface it could seem to be a box of small sound fragments joined together, but in reality all these pieces build a sweeping story with a cinematographic pulse. Balago continues to move in that no-man's land, but so characteristic and recognizable that bears his name, between ambient, soundtrack, library music and experimental electronics, but it is in the renewed construction of his discourse where "Els altres" proposes a leap of unparalleled quality in the framework of his own discography. Crespo plays as he pleases with tempo, textures, structure and emotion, and from this bet arise three small and devastating symphonies that need to be listened in silence, in solitude and with full predisposition to enter a dark and pessimistic universe that invites to immersion.
Because "Els altres", whose title alludes to the others, to the non-humans, also manages to put soundtrack to our moment. Crespo and a web of musical sparks manage to transfer his hopeless, disbelieving and catastrophic conception of the human being to a multi-layered sound mosaic that finds beauty and magnificence in horror and desolation.
Mbodj is the name under which the select Maguette Dieng diffuses sounds that pass through it and that usually navigate between styles of electronic current. Genres such as gqom, jungle or experimental club or lounge electronics are some of them, feeling special weakness for bass, rarities and decentralized dna sounds. His chameleon-like fantasy aims to deconstruct that idea of musical monogamy that so much limits the creativity and nature of any music-loving being who wants to create and share heterogeneous and not very obvious dance and listening experiences.
The event will be carried out following all security measures.
Attendance will be on a first-come, first-served basis.