Rarefacció: Balago / Mbodj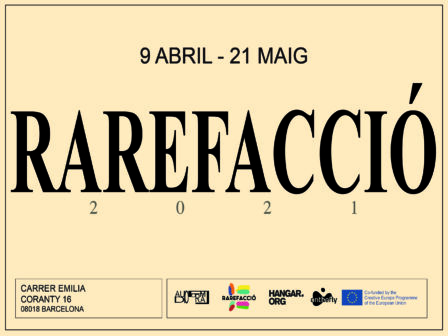 On 14 May at 6 pm, Hangar will be presenting the seventh and last session of Rarefacció, a cycle curated by Sergi Botella that aims to present proposals that revolve around music and the underbelly of an experimental and unconventional viewpoint. The guests for this session are Balago and Mbodj.
Balago / Mbodj
Date: May 14, 2021
Time: 6 pm
Price: 3 euros
Rarefacció's audio will be available live at https://live.hangar.org/#rarefaccio
Five years after "Darder" and seventeen since his debut, balago starts from scratch again. More alone and isolated from his music surroundings than ever, although this must be seen as something positive and inspiring, David Crespo, with the invaluable help of his inseparable companion Guim Serradesanferm, offers us in "El demà" a complete rethinking of his ideas, culminating in his most imaginative, lucid and dazzling recording yet. Leaving false steps behind, accurate as a sniper, moving to the point of tears, the album features all the most recognizable elements in balago's universe –an ambient starting point, the combination of electronic programming and an analogue obsession, flashes of ravishing melancholy, a strong influence of science-fiction, religion and philosophy…-, from a serious, deep and specially inspired point of view, as if Crespo had found that creative excitement which is essential to redefine the course of his band.
A soundtrack for an hypothetical tomorrow marked by alienation, loneliness, despair, misanthropy and the failure of the human being, "El demà" is closer to the ideas of Aldous Huxley, J.G. Ballard, Charles Darwin, Philip K. Dick or Arthur Schopenhauer than to the latest flavor of the month from the electronic scene. Unlike what most people would expect, seclusion and isolationism, both sonically and existentially, feed and power balago's musical inspiration. And the result is his gloomiest, most disappointed recording yet, but also his most emotional and seductive one, a disturbing reflection of a dystopian world doomed to disappear.
"El demà" conveys feelings of unrest, defeat and concern to the beat of dark ambient, neoclassical music, cosmic electronica, contemporary music, library music or soundtracks. There are echoes and references to Coil, Oneothrix Point Never, Leyland Kirby, Brian Eno, Burial, Bach, Arvo Pärt, John Carpenter, Angelo Badalamenti, Harold Budd, Forest Swords and many other names that, at some point, have fed or still feed the band's musical universe. But more than anything else, "El demà" sounds like balago, who now sounds closer than ever to its own music personality.
Mbodj is the name under which the select Maguette Dieng diffuses sounds that pass through it and that usually navigate between styles of electronic current. Genres such as gqom, jungle or experimental club or lounge electronics are some of them, feeling special weakness for bass, rarities and decentralized dna sounds. His chameleon-like fantasy aims to deconstruct that idea of musical monogamy that so much limits the creativity and nature of any music-loving being who wants to create and share heterogeneous and not very obvious dance and listening experiences.
The event will be carried out following all security measures.
Attendance will be on a first-come, first-served basis.