Luciana Della Villa
Comunicació
+34 93 308 4041 ext. 26
luciana(at)hangar.org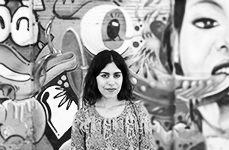 BA in Art History from the University of Barcelona and a master's degree in Cultural Heritage Management from the same center.
He was part of the Department of Art and the Communication Department of the Vila Casas Foundation, both in the Can Framis Museum and in the Volart Space.
At the same time, she develops her personal project Svper linked to music and creates musical works for advertising.
Schedule:
Monday to Friday from 9 a.m. to 2 p.m.