Pense
Producció i Fabricació
+34 93 308 4041 ext. 22
pense(at)hangar.org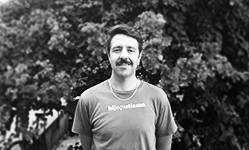 Degree in Fine Arts by the University of Barcelona, graduated in advanced vocational training in Applied Arts and Sculpture, postgraduate in Art, Architecture and Space at the UPC and DEA in Ephemeral Sculpture by the University of Barcelona. Student a the Universidad Complutense de Madrid and at The Cooper Union for the Advancement of Science and Art (New York).
He has indivially exhibited his work at the French Institute in Barcelona and participated in several national and international group exhibitions. He has experience working with national and international established artists (Robert Wilson, Alicia Framis Bestué-Vives …). He has also worked for festivals, theaters, design projects and tv.
Pense provides support and advice to artists in terms of the production of their artworks.
Collaborates with Hangar since 2010 and in 2013 he starts to do production assistance and space management at the center.
Schedule:
From Monday to Friday from 10 to 6 p.m.