Gear With Petals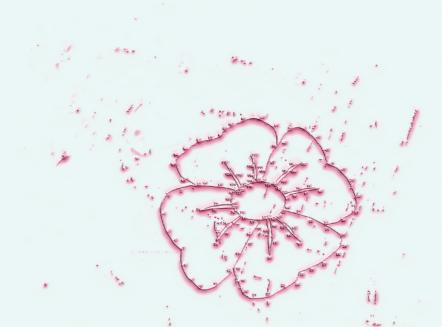 Gear With Petals study program examines situated artistic and literary practices to address the functioning, conditions and potency of specific forms of expression that tend to draw on the minor, the complex, the coded, the metaphorical… All of these repertoires navigate the productive tension between the personal and the generalist-oriented systems or languages that determine and channel it. From these practices we will address classic queer studies issues such as constriction, affectation, time and death, exposing them to other contemporary cultural, political and theoretical discourses.
The artistic and literary practices we analyze are born out of a conflict with the present. From certain positions, for which the here and now are insufficient, small expressive repertoires are generated, but tending towards intensity and obstinacy, which are given as ornamental excesses applied to the few practicable gaps left by ordinary functionality. It is these excesses, however, that allow us to continue trying to signify in spite of everything, when language, like the present one, falls short -to continue linking, folding to make more surface, trying to keep it flowing. It is a matter of sustaining through these modes a certain fecundity on the edge, in the narrowness, open to singular possibilities denied by norm.
The work of Craig Owens, Nayland Blake, Ashon T. Crawley, Fanny Howe, Saidiya Hartman, Lyn Hejinian, Che Gosset, Nat Raha, among others, will be discussed.
The study program is divided into three blocks plus a final live online event open to the public (the final list of participating artists, theorists and poets will be included soon).
Each block consists of two parts:
– Online talk. There will be a brief introduction to the working material: questions will be raised and lines of discussion will be set for the online reading seminar.
No prior registration is required.
– Online reading seminar: group reading by all attendees of the texts introduced in session 1.
*Prior registration is required.
Block 1 – Hearts and flowers. Minor and codified
We will analyze minor forms of expression whose languages and aesthetic permutations slip into oppressive grammars. Through examples of literary and artistic practices in which the particular negotiates with these grammars and ends up circumventing them, we will attempt to present an aesthetic-political framework for this and the other sessions: we will delimit a repertoire in which metaphor, alliteration, poetic rhythms and coded languages proliferate to give space to what cannot be fully articulated, exposing multiple potentialities of signification in contexts of extreme limitation -grammatical, material, spatial and temporal.
Preliminary materials by: Nayland Blake, Jay Bernard, Saidiya Hartman, Craig Owens, among others.
Talk: February 17 (6 – 8 pm)
Free online activity. Video of the streaming of the session.
Reading group: February 24 (6 – 8 pm). Capacity limited to 12 participants under previous selection.
Block 1 full information and reading group enrollments
Block 2 – Faith, myth and dream. Complex and illogical
We will deal with ways of being, doing and saying with complex, illogical and ecstatic languages. We will address the political dimension of faith, certain re-elaborations of the idea of sanctity, mysticism, mythology and dream, and how they are being redirected to enable a necessary experimentation to generate new horizons of meaning and existence. We will review the relevance and actuality of certain traits belonging to previous artistic movements such as Surrealism and how they are being reworked in the present.
Preliminary materials from: Ashon T. Crawley, jayy dodd, Lyn Hejinian, Fanny Howe, among otres.
Talk: March 24 (6 – 8 pm).
Free online activity. Video of the streaming of the session
Reading group: March 31 (6 – 8 pm). Capacity limited to 12 participants under previous selection.
Block 2 full information and reading group enrollments
Block 3 – Affectation and death
The fabulous battering ram of the most celebrated queer aesthetics and politics is always haunted by a much more pessimistic understanding of its circumstances: deprivation, impossibility of advancement and time loop. In this block we will examine the relationship between vitality and death that these practices denote. Beyond the violence in which queer lives are historically socialized, death manifests itself in their expressions as a lack of posterity, as presentity. Extreme, intense and without solution, as ornamental excess of normal vital functionalities.
Preliminary materials by: Che Gossett, Gil Cuadros, T. Fleischmann, Nat Raha, among otres.
Talk: April 21 (6 – 8 pm).
Free online activity, open to the public via streaming
Reading group: April 28 (6 – 8 pm). Capacity limited to 12 participants under previous selection.
Live event: performance, talks and poetry readings, in May 2021 (dates to be confirmed).
Gear With Petals is a research and knowledge transfer program directed by Carolina Jiménez and led by Beatriz Ortega Botas, Blanca Ulloa, Alberto Vallejo and Leticia Ybarra.
Blanca Ulloa is a PhD candidate in Performance Studies at New York University.
Beatriz Ortega Botas is curator of Yaby and editor of _AH magazine.
Alberto Vallejo is curator of Yaby and editor of _AH magazine.
Leticia Ybarra is a poet and co-founder of the Juf project. She has worked at La Casa Encendida as head of the Literature and Thought department, as curator of the Gelatina festival or cycles such as Atravesar el bosque encantado.
Further information:
Carolina Jiménez
carolina[at]hangar.org
T.93 308 40 41 ext. 23