Yuchi Hsiao
Institutional residence in collaboration with the Taipei Economic and Cultural Office and the Taiwanese Ministry of Culture
September - October 2023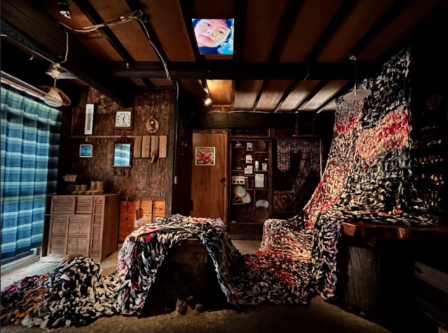 Yuchi Hsiao. Kaohsiung, 1986
Yuchi Hsiao works with video and installation and holds an M.F.A. degree from the Department of New Media Art, Taipei National University of the Arts.
Yuchi Hsiao's artwork revolves around the relationship between the self and the environment. By observing the traces and marks of people's systematic lives, her work focuses on the unusual events of everyday life. Her latest works were initialled from where she spent most of her time during creation, her room, projecting her intimate emotion and expression. She is interested in people's thinking and feeling, thoughts and behavioural reflections. She is also concerned about how to present inner behaviour in the corresponding relationship between artwork and daily life, and how to make the work move forward through thoughts.
Recently, she has been using the textile, used clothes combined with video work, extending the emotion flowing from the mind outside the space, she is showing her new work in 2023 Nakanojo Biennale, Japan, and her videography works have been shown internationally in France, Bulgaria and Macau.