Nana Shimomura
Medium-term residency
May - November 2023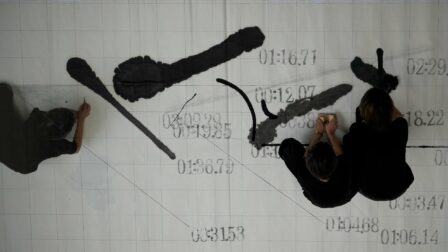 Nana Shimomura. Japan, 1990
Nana Shimomura is a multidisciplinary artist who deconstructs calligraphy through collaboration with contemporary media and analysis of time and perception. This attitude also reflects in the wide range of her relationships with specialists in other areas including musicians, poets and architects. In the theme of her work production, she has taken the constellations that exist equally in the sky as one of the important themes. Linking them to the fundamental perceptions of human beings and continuing to explore new forms of expression using calligraphy. Shimomura believes the act of kaku (writing/drawing/scraping/lacking in Japanese) is our purest form of creativity born from our ancient impulses which makes her challenge the traditional perception of calligraphy.
She completed a Bachelor of Fine Arts in design in 2015 and went on to obtain Masters of Fine Arts at Tokyo University of the Arts in 2017. She is staying in Barcelona from 2022 with the Pola Art Foundation Fellowship, a Japanese institution.
She has won several major art prizes including the Tokyo Midtown Award Semi-grand prix in 2018, the Encouragement Prize at the Gunma Biennale for Young Artists in 2021, Art Connect selected artist in 2022, D&AD and NYADC etc. Since 2018, she had been organizing and managing an artist-run space in Tokyo.
In addition, she was judge for the D&AD New Blood Award 2023 and lectured at the Tokyo University of the Arts on cutting-edge technologies on digital equipment in 2022.
She has exhibited such as: Beyond the paint (Sotheby's Institute, New York, 2023), 18 (the BLANC, New York, 2023), Nana Shimomura+Shigeru Matsui "Konstellationen" (Dohyo, Tokyo, 2022), Makoto Kawamoto online live (Monten hall, Tokyo, 2021), Roppongi Art Night (Tokyo, 2021/2019), the 15th Gunma Biennale for Young Artists (the Museum of Modern Art Gunma, Japan, 2021), losles live scan streaming (Google Spreadsheet, 2020), Not Necessary a Device (the University Art Museum Tokyo University of the Arts, Tokyo, 2019).