Luz Broto Lema
Long-term residency
May 2022 - April 2024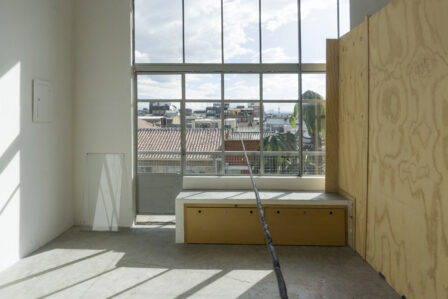 Luz Broto Lema. Barcelona, 1982
She holds a diploma in Advanced Studies in Art in the Digital Age. Intermediate Creation at the University of Barcelona, and post-master Critical Habitats studies at Royal Institute of Art of Stockholm.
She works with the space, with what's here, taking into account the architecture of the place, its urban environment or position in the territory, its infrastructure or organisational structure, its regulations, uses and histories, and in doing so, proposes minimal operations that change everything.
She has done site-specific projects in the format of installations, actions, interventions, protocols, or itineraries for commissions, grants, exhibitions, or residencies, in close collaboration with many institutions and in different contexts for fifteen years, as Adjust to the external temperature (Secession, Viena, 2011), Raise the water level of a river (Centre d'Art la Panera, Lleida, 2014), Open a permanent hole (MACBA, Barcelona, 2015), Abrogate the rules of use relating to silence (Koldo Mitxelena Kulturunea, Donosti-San Sebastián, 2016), Tighten a line between two parallel interiors (FLORA, Bogotá, 2018) o Prolong the pillars (ethall, L'Hospitalet, 2021).
She has received production and research grants from Blueproject Foundation, BCN Producció or Fundación Botín; she has been awarded the Art Nou and Miquel Casablancas prizes; and has participated in the LIPAC residencies in Buenos Aires and FLORA in Bogotá. Some of these works are part of public collections, such as MUSAC, MACBA or MAMBO.