Andrés Vial
Short term residency
January - February 2022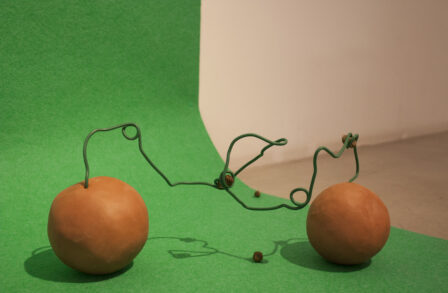 Andrés Vial, Santiago 1980
Andrés Vial holds a degree in Fine Arts and a Masters degree in Research and Artistic Production from the University of Barcelona, studies that he combined with an unfinished degree in agriculture. His work is produced through the use of multiple media and his interests are determined by the relationship between the species that inhabit the planet and the territory. His practice questions the ways in which a social/territorial project is configured, both physically and symbolically, questioning the physical and symbolic space determined by a state, nation or social group. To formalize this, he relies on subjects related to the relationship between human beings and nature and how this connection in its singularity determines changeable and strange geographic places. 
Through the use of multiple media (installation, video, sound, photography, drawing, painting) he seeks to establish visual dialogues in order to break or, on the contrary, to push the symbolic and hegemonic limit imposed, breaking or evidencing that pre-established normativity. 
His work has been exhibited in multiple spaces and art centers, among others; "Money Laundry" at Sixty Eight Art Institute, Copenhagen (2017), "Machinic Recompositions" and "Limits", Can Felipa, Barcelona (2017) "Beehave", at the Joan Miró Foundation, Barcelona (2018), "Metanarratives" at the Kunstverein Hamburg (2020). 
Along with the development of his work as an artist, since 2014 she co-directs a self-managed contemporary art project Espai Colona in Barcelona. In this regard, in the year 2019, she carries out the curatorial research residency at the Huarte Center (Huarte, Navarra) starting the project The international school of landscape in the landscape, which from the local territorial narratives tries to articulate a story that allows to connect diverse socio-cultural versions in relation to the idea of landscape.