2020: The Walk, Extinction Rebellion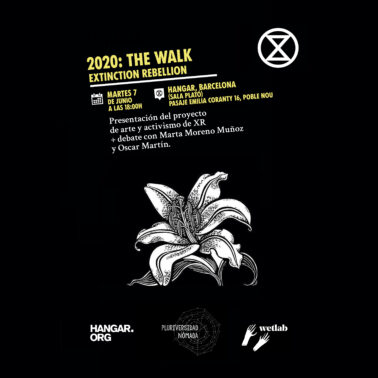 On June 7, will take place the presentation of 2020: The Walk, a project by Extinction Rebellion.es which will conclude with a debate with the participation of Marta Moreno Muñoz, Oscar Martín and XR Barcelona.
2020: The Walk is a project that combines art and activism with the idea of walking from Granada to Helsinki – and from there to the permafrost – with some trains and ferries, in order to raise awareness about not flying and thus help to spread the Extinction Rebellion movement by organizing workshops and training in Nonviolent Direct Action – ADNV during the walk.
Marta Moreno Muñoz is an artist and activist of Extinction Rebellion and works in different disciplines such as action art, video and other time-based practices. Currently, she is immersed in the production of "2020: The Walk", researching for her doctoral thesis "Art as an experience of dissolution of the subject".
Oscar Martín is an artist, researcher and independent programmer who works in the field of algorithmic poetics and the study of generative systems composed of non-human agents (biological, algorithmic or mechanical) applied to the artistic context under the premises of DIY and DIWO.
Practical information
Date: June 7, 2022
Time: 18 h
Place: Plató Room, Hangar