Ecofictions. From cinematographic imagery to speculative narratives. By Paula Bruna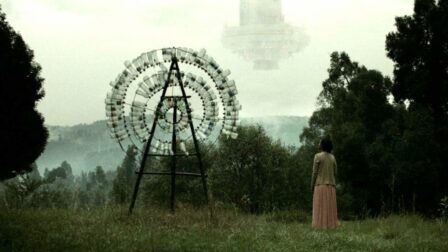 Decades of science fiction cinema have formed an archive of images of possible futures that forge the collective imagination. In view of this, we ask ourselves: how does science fiction cinema deal with environmental conflicts? What eco-social futures are possible according to this imaginary? To what extent are the futures that are being proposed to us conditioned by the current model of social organization and the idea of progress of modernity? Why is it so difficult to think about non-apocalyptic futures? Can we imagine alternative scenarios to those proposed?
This workshop by artist in residence Paula Bruna is structured in three parts:
Ecofictions I: The Future According to Eco-Science Fiction Cinema
Dates: February 24 and 25
Time: 6pm – 9 pm
Based on the viewing of fragments of films, we will review how ecological conflicts have been treated in science fiction cinema, what or who it points to as responsible and what kind of solutions are being considered. We will reconstruct the imaginary of the future that science fiction cinema offers us, and we will analyze the tools it uses for this.
Ecofictions II: Imagining alternative futures and realities
Dates: March 2 and 3
Time: 6 pm – 9 pm
Through debate and with the help of specific texts, we will stress the limits of the traditional paradigm that conditions the imaginary of the possible. Using resources from science fiction and speculative narratives we will build a collection of alternative animated imaginaries.
Presentation of ecofictions
Date: March 9
Time: from 6pm
Who is this workshop for: people interested in science fiction, future imaginaries and speculative narratives in relation to ecology and environmental conflicts.
No. of places available: 20
Participation fee: €10 (free entrance)
Paula Bruna's artistic research stems from the study of the conflict between a society based on economic growth and the limited nature of the medium that sustains it. Taking as a reference concepts of ecology, sustainability and ecological economy, Paula is interested in the games of tensions between society and the environment and the process of collapse in all its phases (from the instability of equilibrium prior to the post-collapse scenario). In her installations she uses everyday elements to represent and investigate these issues in the form of visual poetry. In her latest projects, she investigates the conformation of the anthropocene narrative from a non-human point of view, in a broader ecosystemic conception exercise.
This workshop is part of Fictions of Dis-order program.
Image: Crumbs (2015)
To enroll, please fill in the following form: