Photographs, imperialism and Eden. Viewing the negative. By Agustín Ortiz Herrera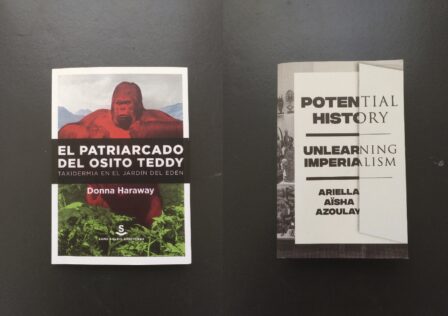 NO PLACES AVAILABLE
Within the programme Ficciones del des-orden, on Tuesday June 30th the artist in residence Agustín Ortiz Herrera will propose the reading session Photographs, imperialism and Eden. Viewing the negative. During the meeting, selected fragments of two key works for cultural studies and historical reviews will be worked on, crossed and composed: El patriarcado del osito Teddy. Taxidermia en el Jardín del Edén by Donna Haraway and Potential History. Unlearning Imperialism by Ariella Aïsha Azoulay.
Through the work of Haraway (1989), the session will allow the participants to enter the dark rooms of the beginnings of the modern museum of natural sciences, in which photography and dioramas emerge as dominant methodologies to construct the narrative of "the natural". While in Azoulay's recently published work, the discipline of photography is dissected and questioned as a technology intimately linked to the advent of imperialist societies and their museographic discourses. Two authors and two works that are temporally and thematically distant, but at the same time united by the biting criticism of the creation of images in a capitalist context.
Readings
Donna Haraway. El patriarcado del osito Teddy. Taxidermia en el Jardín del Edén. 1989
Ariella Aïsha Azoulay*. Potential History. Unlearning Imperialism. 2019
Date: Tuesday, June 30th
Schedule: 6 pm
Place: Hangar (open air square – Can Ricart)
Free assistance
Registration is required using the form below. Those who register will receive the anthology of selected fragments by e-mail beforehand.
The artistic practice of Agustín Ortiz Herrera (1970) investigates the place of confluence between the moving image and the performance. His work explores the semantic possibilities of non-linear video installations and uses that means to deal critically with issues such as intersecretionality, implicit violence in power relations, contradictions of economic organization systems and the paradoxes posed by representation of memory. Its strategies include the challenge of the hierarchies and the automatic positions established between viewers and audiovisuals, as well as the subversion of expectations through the agitation of the interfaces and the provocation of an active role in the viewer.
This session is part of the Ficciones del des-orden programme.
Image: Agustín Ortiz Herrera