ProxySpace: a day dedicated to live coding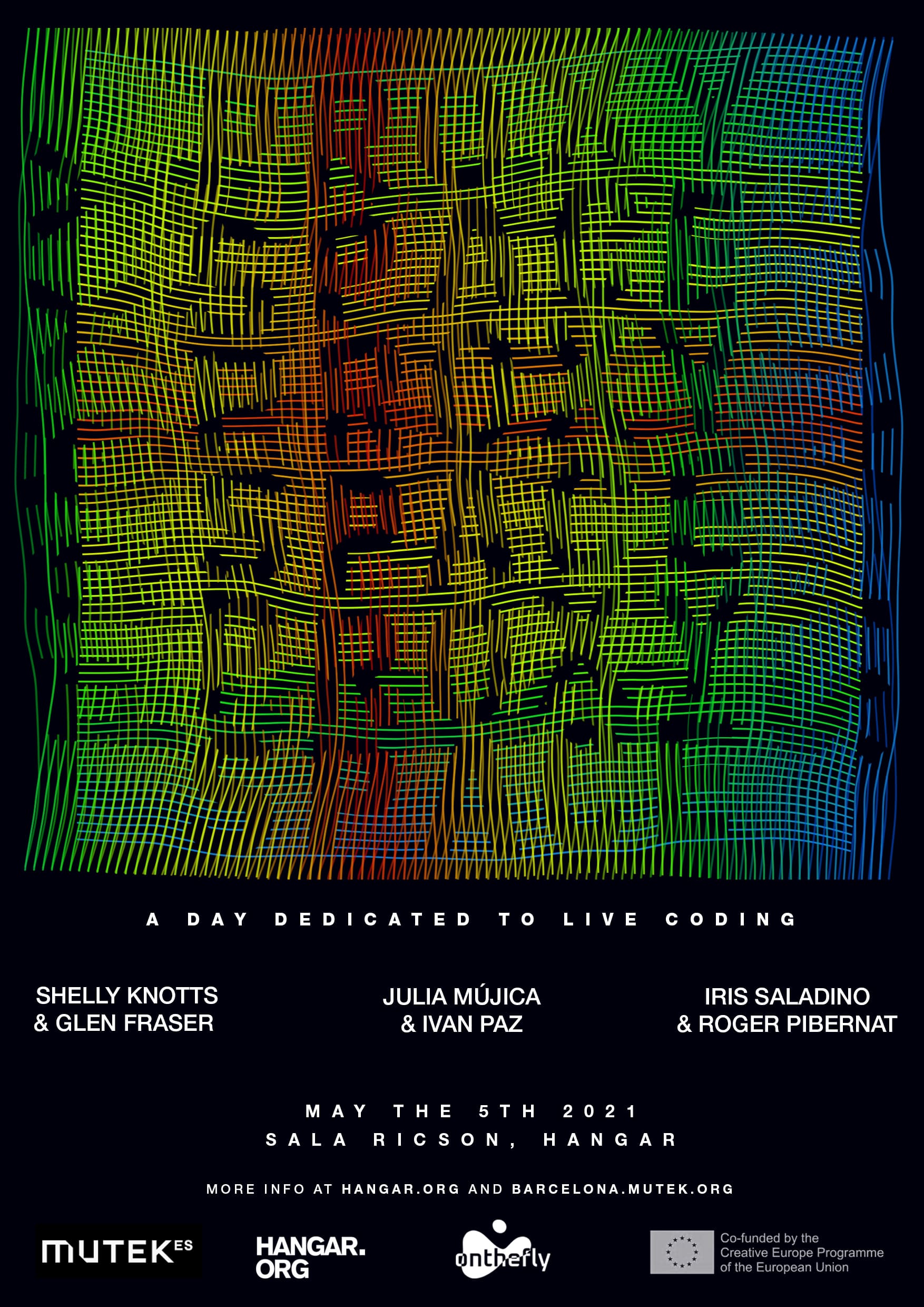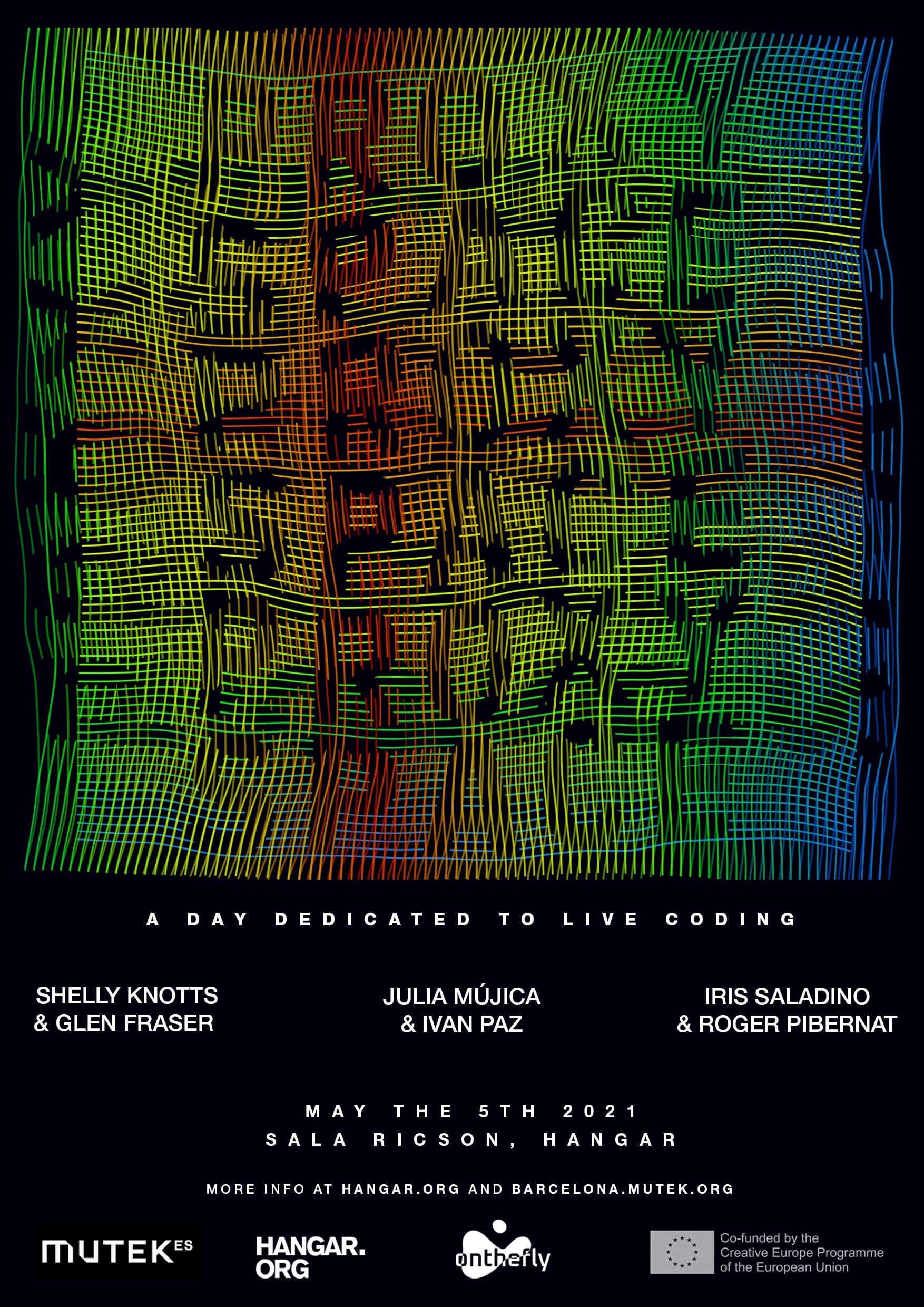 On May 5th, MUTEK ES and On-the-Fly, a European project led by Hangar, co-organize ProxySpace, a day dedicated to live coding workshops and performances. Live coding is a performative technique focused on writing algorithms in real time that is mainly used to produce music or images, but also extends to other areas.
During the day, livecoder Shelly Knotts will give a hands-on workshop that will allow attendees to learn the basics of creating a live coding session, producing soundscapes, beats and patterns in SuperCollider — an open source programming language used to create music —, reactive audio/music installations, interactive systems, live coding and much more.
At the end of the afternoon, there will be six sound and visual performances that explore live coding from different points of view.
The performers who will perform as part of this co-production are:
Shelly Knotts, one of the artists awarded a grant from the On-the-Fly open call. Shelly Knotts is an improviser whose performances collaborate with computers and humans. Her interest in code, data and networks has led her down strange and diverse musical paths, from electroacoustic composition, to jazz and noise music, to Algorave. She experiments with generative and AI techniques and algorithms to make music. She has performed at numerous Algoraves and other live coding events around the world, solo and with collaborative projects such as ALGOBABEZ.
Iván Paz has a background in physics, music and computer science. Ivan's work is framed in critical approaches to technology focused on from-scratch construction as a technique of exploration. Since 2010, he is part of the live coding community and has presented workshops, conferences and concerts in America and Europe. He is currently working with machine learning techniques while maintaining the real-time feedback characteristic of live coding.
Julia Mújica is a Mexican scientist dedicated to the artistic exploration of the complex processes of nature. With an interdisciplinary background spanning biology and computational physics, she is deeply interested in understanding how collectives make decisions that result in behavioral synchrony. Recently, her curiosity has extended into the artistic sphere, where the process of creation magnifies and prioritizes different aspects of the same phenomenon. Her work includes animated particle design in processing language, noise design from random walk algorithms for modular synthesizers, and collaborations with artist Lina Bautista on rhythm and collective patterns with interactive robots.
Roger Pibernat is an illustrator and musician who constantly explores other artistic disciplines and fields of knowledge. He started working with SuperCollider around 2006. He has been part of the Barcelona Laptop Orchestra and co-founded the Wú collective with which he has developed electroacoustic instruments, audiovisual performances, software and interactive installations. He is currently an active member of the Barcelona live coding community.
Glen Fraser (aka totalgee) is a Canadian software developer who has worked in graphics, sound, interactive and immersive technology for over a quarter of a century. Most of his professional life has been spent creating software tools for artists and collaborating directly with them. His initiation into live coding was in 2013, when he also belonged to the Barcelona Laptop Orchestra and the Wú Collective. Inspired by the TidalCycles pattern language, and following the (cheerfully irrational) live-coder tradition of reinventing the wheel, Glen develops and uses "Bacalao", his personal collection of live-coder tools for SuperCollider.
Iris Saladino is a sound-oriented creative coder based in Buenos Aires. Member of CLiC (Live Coders Collective). She works live coding music (mainly, but not only) with TidalCycles and visuals with Hydra. She has performed at: UNSaM, UBA, Rolf Art Gallery, Museo Sívori, Museo Moderno, Centro Cultural San Martín, Centro Cultural Recoleta, Centro Cultural Ciencia, Planetario Buenos Aires, Planetario Bogotá, among others. Festivals: Amplify Nano Mutek 2019, BA; Festival Domo Lleno, CO; Festival de Música en Red, DE; Festival No Bounds, UK; Piksel, NO; OverKill, NL; SpamArts, BA. Irís will perform live from Buenos Aires.
Ivan Paz and Julia Mújica's performance integrates symbolic machine learning for sound synthesis and systems with collective behavior for the visuals.
Shelly Knotts and Glen Fraser will combine broken SuperCollider synths and automatic drum machines with particle and shader effects to create fluid, responsive spaces.
Roger Pibernat and Iris Saladino will work together integrating programming languages such as Hydra, Tidal and SuperCollider to produce sound and visual narratives.
The session will be face-to-face and streamed.
The event will follow its community guidelines.
Practical workshop information
Date: May 5th
Time: 12 noon
Place: Sala Ricson, Hangar. c/ Emília Coranty, 16.
Limited places (15 pax). The event is fully booked.
It is necessary to bring a computer (OSX/ Windows/ Linux) and headphones.
Practical information performances,
Date: May 5th
Time: 18 h
Limited places (40 pax). The event is fully booked.
The event is part of the European project On-the-fly and is supported by the Creative Europe program.
Coorganized by:

Supported by: