Ad Tech Constellations | GRAPA residency with Joana Moll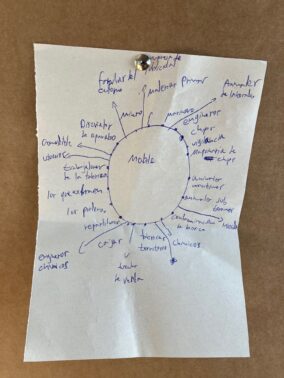 Despite being the main business model of the internet, the Ad Tech (Advertising Technology) ecosystem is surprisingly unknown to most of its users. Business models are not neutral, they are built through a series of choices embedded in a specific cultural, social and economic context and play an important role in defining how resources are organised, managed and activated. Ad Tech, like any other industry, is articulated around a well-oiled set of human choices that respond to particular interests. Moreover, the decisions embedded in this gigantic but incredibly opaque maze of intertwined contingencies (algorithms, tracking technologies, devices, data centres, electricity, marketers, designers, engineers, CEOs and, above all, user data) are made by millions of users every day. In this way, decisions made by a few are applied blindly by the masses, leading to increasing centralisation and rigidity of this ecosystem, ultimately increasing its vulnerability and exposing it to collapse.
This project aims to provide in-depth knowledge of how the Ad Tech ecosystem works, as well as providing enough information and new methodologies and materials for other communities to continue to advocate for digital and climate rights, and to improve ethical and sustainable practices within the Ad Tech industry.
Beyond outlining the key technical elements and processes that form the backbone of Ad Tech, we will pay attention to the 'intangible layers' that are inextricably linked to it, such as decision-making processes, energy consumption, environmental impact and the emotional toll on users who are exhausted and exploited by free labour. What would happen if we were able to represent the complex web of entanglements that construct ad tech, what potential new dynamics would emerge by allowing users to embody the role of a cookie, an ad, an RTB algorithm, a DSP, an energy consumer or a tech CEO?
Ad Tech Constellations is a project by Joana Moll in collaboration with the HGK FHNW Basel, starting in 2023 and conceived as a three-year action research process.
Joana Moll is an artist and researcher who splits her time between Barcelona and Berlin. Her work explores from a critical point of view the way techno-capitalist narratives affect machines', humans' and ecosystems' literacy. Her research focuses mainly on the materiality of the internet, surveillance, social profiles and interfaces. She has presented her work at renowned institutions, museums, universities and festivals all over the world, including the Venice Biennale, MAXXI, MMOMA, Laboral, CCCB, ZKM, Bozar, the Berlin Natural History Museum, the Museum of Applied Arts (MAK) of Austria, Ars Electronica, HeK Basel, the Photographer's Gallery, the Korean Cultural Foundation Center, the Chronus Art Center, New York University, Georgetown University, Harvard University's Berkman Klein Center, Rutgers University, the University of Cambridge, Goldsmiths, University of London, the University of Illinois, Concordia University, the Universitat Autònoma de Barcelona (UAB), ETH Zürich, the École d'Art d'Aix-en-Provence, the British Computer Society, The New School, CPDP 2019, Transmediale, FILE and ISEA, among many others. Her work has been widely featured in international media including, among others, The New York Times, The Financial Times, Der Spiegel, National Geographic, Quartz, Wired, Vice, The New Inquiry, Netzpolitk, El Mundo, O'Globo, La Repubblica, Fast Company, CBC, NBC and MIT Press.
She is a co-founder of the Critical Interface Politics research group at HANGAR (Barcelona). She has received a BBVA Foundation grant and is a researcher in residence at Berlin's Weizenbaum Institute. At present, she is a guest scholar at the Elisava School of Design and Engineering in Barcelona, as well as an art researcher in residence at the HGK's Critical Media Lab in Basel.