ALBERGUE: experiences of shock and mourning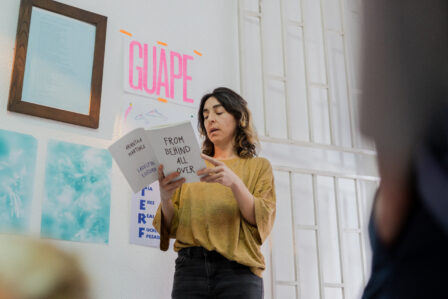 On Sunday 29th October, Hangar will host the first of two sessions of ALBERGUE, a space-time open with La Poderosa to bring together experiences of grief and mourning. This is a session as part of La Poderosa's cycle Hacer Historia(s) V, in which Arantxa Martínez will present the performance From Behind All Over.
"Words have a government of their own, and it has nothing to do with the linguistic system or the management and care of language. Words are, among other things, an expression of life, an irreducible act because of their capacity to relate and to spread, to echo and to reproduce. Words are voices, even if they are inaudible, because they are bodies, intimately linked to the tongue, the saliva, the lips and the mouth. In this sense, the singular voice of words does not need a receiver in order to be communicated, because the voice is already communication beforehand. Before, in its becoming, the voice is already plural and connected". Arantxa Martínez
Text and dance: Arantxa Martínez
Accompaniment: Gloría Godínez, Ricardo Santana
Subtitles: Ricardo Santana
Sound recording: Felix Classen
Original music: Canarian folk song El baile del vivo and excerpts from the songs We might be dead by tomorrow by Soko and Acrobat by Angel Olsen.
Thanks to the Tenerife LAV Residency Programme, Espacio Prana, the Club, Fernando Gandasegui, Ladelfin Editora, Juan Domínguez, Kate McIntosh, Daniel Belasco, Ghyslaine Gad and Paz Sanchez.
Hacer Historia(s) volumen V is a cycle of contemporary dance and performance organised and curated by La Poderosa, which is interested in the archive, memory, history and the body. In the face of the apocalyptic shadow that hangs over our lives, this fifth edition proposes a two-week programme traversing the cyclical meaning of life through dance, performance, encounters, laboratories and other artistic contexts.
Practical information
Day: 29 October
Time: 7:30 pm
Venue: Hangar
Tickets: 12 € here.
* In early 2024, the second session of ALBERGUE will bring together Du-Da, Marta Echaves, Isabel de Naverán, Arantxa Martínez and Sara Torres. More information coming soon.
Image: From Behind All Over by Arantxa Martínez.
In complicity with: