¡ALUD! #2 Festival of expanded cinematic arts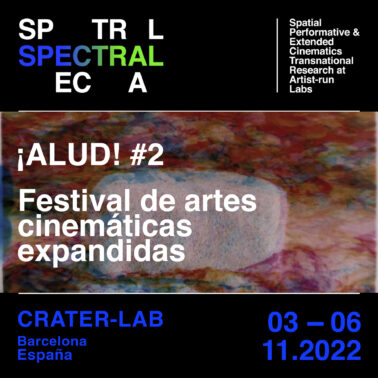 From November 3 to 6, the collective in residence Crater-Lab presents at Hangar ¡ALUD! #2 Festival of expanded cinematic arts, in the framework of the SPECTRAL project.
The event will include expanded cinema performances, paracinema, screenings, installations and workshops focused on cinema as a space that expands beyond the screen.
¡ALUD! will feature Nanolab "Richard Tuohy & Dianna Barrie" as guest laboratory, Hrvoje Spudic as international guest and Esperanza Collado as national guest, who will also give a theoretical seminar on Paracinema. In addition, in dialogue with the seminar, the expanded cinema workshop "The projector as an instrument" will be given. The festival will also include performances and installations by Crater-Lab members Antonio Bértolo, Katia Popova, Elda Isavelina and Luis Macias & Alfredo Costa Monteiro. In addition, the Zumzeig cinema will host a special screening of films by Guy Sherwin and Lynn Loo.
You can check the full program here.
Tickets here.