Holes into the Future: Xenopoetics and Thinking Beyond the Human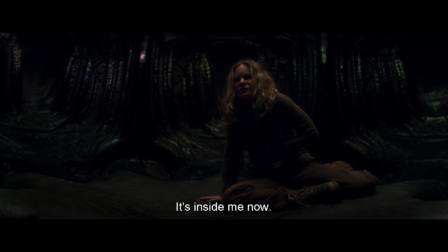 FULLY BOOKED
No system is closed. The outside always seeps in….
—Luce Irigaray
On Wednesday, April 12, we present a workshop with the Australian author Amy Ireland as a new activity of the Shared Library. The workshop is the result of a proposal by researcher Federica Matelli, who we have invited to work on a new program to be announced shortly.
The term 'xenopoetics' first appears in Kristen Alvanson's preface to Cyclonopedia: Complicity with Anonymous Materials—a mind-bending work of theory-fiction attributed to the Iranian philosopher, Reza Negarestani.
In her preface, Alvanson describes xenopoetics as '[having] something to do with composing out of distorted materials'. It produces works in which 'lines are pseudonymously or anonymously quoted, one scene leaks from the future to the past, an object evades chronological sequences, a number turns into a cipher [and] everything looms as an accentuated clue around which all subjects aimlessly orbit, leading to an eclipsed riddle whose duty is not to enlighten but to make blind'. For Alvanson, xenopoetics is a form of communication that is inseparable from unknowing: the undoing of knowledge and knowability is the fundamental condition of xenopoetic creativity.
This is reflected in the Greek term xenos from which the prefix xeno- is derived. 'Xenos' denotes a 'stranger'—an unknown entity that arrives from the outside—but also a 'guest'—someone or something that must be accommodated and welcomed inside. Elsewhere, queer magician Rebekah Sheldon writes '[e]tymologically, xeno- is trans. As graft, cut, intrusion, or excession, xeno names the movement between, and the moving entity. It is the foreign and the foreigner, the unexpected outside, the unlike offspring, the other within, the eruption of another meaning'.
Setting out from these invocations of strangeness, anonymity, pseudonymity, holes, leaks, ciphers, transitions, intrusions, excesses, unknowability and temporal anomaly, this workshop will introduce 'xenopoetics' as both a philosophical concept and a creative methodology. Its goal is to foster ways of thinking about the human subject which remove it from a position of self-assured creative centrality, and to show how paying attention to the agency of nonhuman, inhuman, and more-than-human forces connects with and perpetuates an important feminist legacy.
The workshop runs for two hours and is comprised of two one-hour long sections plus a short break. In the first section, the concept of 'xenopoetics' will be explored using examples from science fiction, theory-fiction, film, philosophy, and horror. In the second section, we will look at how some of the tropes that we have come across in the first section relate to key ideas in materialist feminism, cyberfeminsm, and queer demonology, and reflect on how xenopoetics might re-orient or undermine unreflexively patriarchal or humanist approaches to creative practice.
Days before the workshop, a small reader with excerpts from texts relevant to the workshop in English and Spanish will be provided in electronic form.
Practical information
Date: April 12, 2023
Time: 6 pm
Place: Hangar (Old offices)
The workshop will be held in English
Registration fully booked
Amy Ireland is an Australian writer and theorist currently based in the UK. Her research focuses on gender and technology in modernity, and she is a member of the technomaterialist transfeminist collective, Laboria Cuboniks.
Amy's work transects disciplinary and formal boundaries, crossing into philosophy, fiction, code, occultism, performance, poetry, and sound. Her performance and poetry work has been included in exhibitions such as the 20th Biennale of Sydney, London's Barbican Centre's AI: More than Human (2019), the 2021 Athens Biennale, and Time After Time: The Polychronicity in Blockchain, Hyundai Motorstudio Beijing (2022–2023). She has taught and lectured in Australia, the UK, Korea, China, Canada, Singapore, and France.
Filosofía-Ficción, a collection of writings on philosophy and aesthetics in Spanish translation, was published by Holobionte in 2022. Her feminist and fictional texts also appear in Holobionte's Ciberfeminismo: De VNS Matrix a Laboria Cuboniks (2019), Nuevos vectores del xenofeminismo (2022), and Mundo Weird: Antología de nueva ficción extraña, Vol. 1 (2022).
Amy has been working as an editor for the contemporary art and philosophy press Urbanomic since 2021.
Image credit: Still from Annihilation, dir. Alex Garland (2018)
With the complicity of Holobionte Ediciones