K-TIME: talk and music session with Mckenzie Wark and El Palomar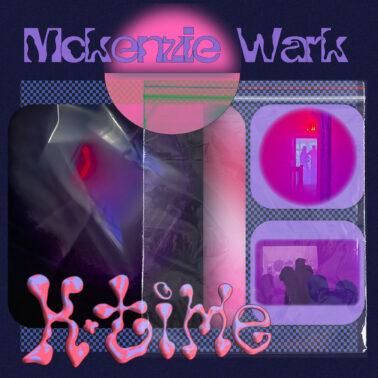 On Sunday, February 12 at noon, Caja Negra presents K-TIME, its second activity as an orbiter collective in Hangar. In this meeting, the publishing house once again chooses the double format of talk and music session, remaining faithful to the belief that writing and dance are practices that touch each other.
Taking advantage of Mckenzie Wark's visit to Spain, we will have the opportunity to listen to her share some ideas that, while already present in Reverse Cowgirl, become central to the plot of her new book, Raving. In it, Wark writes: "time is that sideways time, that pocket in time where there's more time. This is a story about the need for it, the chase for it. Ravers need to rave for all sorts of reasons. This transsexual body needs it to practice the arts of dissociation. This other time, the k-time, only occurs in the rave continuum. A dissociative time, a transsexual time, a ketamine time."
Together with her, El Palomar will present the research of their project There Must Be Justice, an album created entirely by trans and non-binary artists, including graphic design and mastering, which they themselves define as a safe sound space that crosses the textual and the musical, capable of detonating other potential spaces. The album is a compilation of remixes of the original soundtrack of the Schreber Is a Woman project, an exercise of memory and empowerment based on the Schreber case, on which the trans pathologization in the field of psychology was erected.
Practical information
Day: Sunday, February 12
Hour: 12 pm
Venue: sala Ricson, Hangar
Free admission
McKenzie Wark (Newcastle, 1961) is an Australian-born, New York-based writer and academic. Her books translated into Spanish are Un manifiesto hacker (Alpha Decay), La playa bajo la calle (Hermida), El capitalismo ha muerto (Holobionte) and Vaquera Invertida (Caja Negra). Raving, her most recent book, has been published by Duke University Press.
El Palomar (Mariokissme and R. Marcos Mota) was born in Barcelona as an artistic collective in 2013. As both an artistic collective and an expanded project, it applies a queer and feminist methodology to its own organization and management, being therefore a pioneering project on an international scale due to its nature. To date, El Palomar has carried out more than sixty artistic and curatorial projects. Its trajectory includes exhibitions in cities such as Barcelona, Madrid, Berlin, Frankfurt, Munich and New York, among others. In their work they are committed to processes that question culture in form and content, proposing points of access and empathy between queer collectives and the rest of the citizenry.
Activity in collaboration with Playlist Curada.