Pedro Torres presents Glía in Llum BCN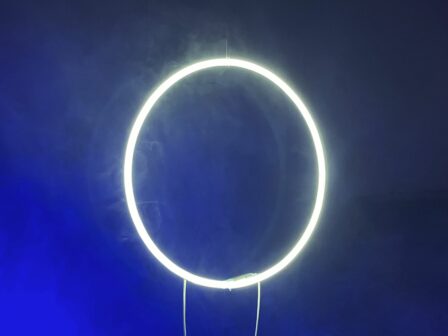 Artist-in-residence Pedro Torres presents the installation Glía at Hangar, as part of the new edition of Llum BCN, the festival of light arts that will take place from February 3 to 5. Curated by Maria Güell Ordis, Oriol Pastor and Jose Luis de Vicente, the festival celebrates its 12th edition with a program of proposals from different fields: contemporary art, design, architecture, technology and lighting. A collective experiment of perception and participation, to be materialized in an urban laboratory to explore, contemplate and inhabit the shared territory that is the city, from unprecedented perspectives.
Glía is a proposal inspired by the human nervous system based on some drawings by Santiago Ramón y Cajal, for which Pedro Torres has created an interweaving of threads and moving neon lights, a circuit of tubes and fog, lighting and a sound composition made in different layers. A brain-sculpture with curtains of threads that function as a membrane that delimits and questions what is interior and exterior space; of neons that operate on the basis of electrochemical connections such as synapses, and a fog circuit that represents a fluid field of possibilities of information flow. Glía proposes to reflect on complex and independent systems. A dynamic system of liminal spaces, of time in the gaps and memory.
Glía was produced at Hangar's Soft/hardware and interaction lab and it can be visited in the Polivalent room. Likewise, the Ricson room will host the installation We Harvest Wind by Thijs Biersteker.