Agustín Ortiz Herrera
Long-term residency
May 2019 - April 2022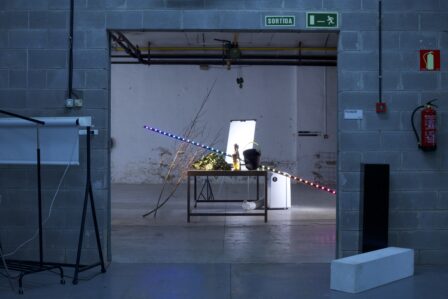 Agustín Ortiz Herrera, 1970.
Agustín Ortiz Herrera's artistic practice is developed in the fields of audiovisual, performance and installation. He uses these means to activate Queer possibilities in a patriarchal-colonialist context nurtured by the dominance of audiovisual persuasion and the normative representation of memory. Ortiz Herrera is interested in an approach to research and knowledge creation that works on the semantic possibilities of narrative audiovisuals in combination with experimentation on installation configurations. His latest works have developed a critical spirit dedicated to deconstructing notions about historical patriarchal figures, as in his recent artistic research project: Naming. Possessing. Critique of Taxonomic Practice (Barcelona Producció La Capella 19/20 Grant). In which he inquires about the white-european-patriarchal-colonialist roots of the Natural Sciences.
Agustín Ortiz Herrera (Barcelona, 1970) studied Fine Arts at the University of Barcelona (1998), and filmmaking at The New School University, New York (2003). After a period working as a screenwriter, he returned to artistic practice by completing the Master of Fine Arts at Konstfack College of Arts, Stockholm (2016). His recent exhibitions include "Oblivion" at KROPP, Uppsala Konsert & Kongress (2019), "Konst tar plats" at Österbybruk, Sweden (2018), "Potenciación a largo plazo" at "El umbral de primavera", Madrid (2018) . He received the Barcelona Producció La Capella Grant (19/20) in the artistic research category and the Nils Johan Sjöstedts Award in Stockholm (2016).
Hangar Studio Visit 2020
Past resdiencies:
Short stay: november 2017 – january 2018