iii
Long term residency
May 2019 - 2021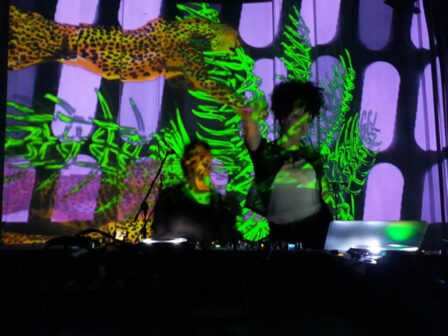 iii
iii [ai ai ai ai] was born at the end of 2017 as a result of dialogue and synergies between researcher and DJ Ikram Bouloum (Torelló, 1993) and visual artist, researcher and DJ Isamit Morales (Caracas, 1982).
The project is articulated in the form of a DJ set and political space, combining sound experience and theory in the form of parties, listening sessions, mixtapes, with the intention of questioning and surpassing identity expectations. iii It is an active part of the Zen55 collective, a bimonthly party born out of the need to generate a proposal for a more inclusive and open club in the city.
Among the most recent interventions and Djset are: DJ Set – Sagitario Season, Sala Apolo – Barcelona, E; Performance & DJ Set – Conjurs Sonors amb Inditexts i Nat Yar Exotic Monkey, Can Felipa – Barcelona, E; Mixtape e Instalación para Colectivo Queer TOMBOYS DON'T CRY – MILANO PRIDE – Milán, IT; DJ Set – ZEN55 Sala VOL, Barcelona, E; DJ Set – AVANT OFF, Nitsa Club – Barcelona, E; DJ Set – Jazz is Dead – Turin, IT; DJ Set – Lapsus Festival 2018 – Barcelona, E.
https://www.instagram.com/iii.aiaiai/
http://dublab.es/iii
https://soundcloud.com/iii-aiaiai