Alicia Bickford Champlin
Residency Grant at the Interaction Lab
June - August 2017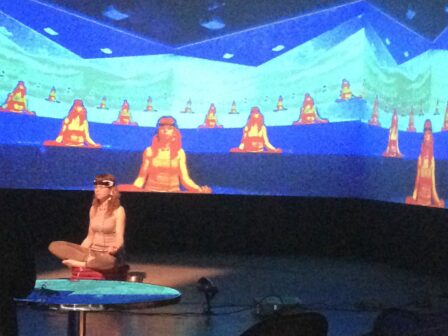 Alicia Bickford Champlin, New Hampshire (USA), 1975
Residency Grant at the Interaction Lab
Period of residence:
June – August 2017
Alicia Bickford Champlin is an American artist / researcher from the quiet state of Maine, where she is currently seeking an MFA in Intermedia. Champlin's research & creative practices focus on feedback – driven, generative systems in pursuit of the phenomenological intersection of networked communication and identity. Issues of authenticity, neutrality, and truth are explored with process – based, interactive methodologies.
Currently, Champlin is working with biometric data as an interventionary control mechanism in live video and audio feedback loops. During her residency at Hangar, she will be developing EEG and ECG instruments with MaxMSP for use in generative performance installations.
Champlin's work draws influence from the provocations of Alvin Lucier, Nam June Paik, and Marina Abramovic, among others. Prior to pursuing her MFA, Champlin studied Japanese / Buddhist art history at Sophia University in Tokyo, and built a career as a communications software architect. In 2015, she left the corporate world for a more authentically creative life, but hopes to bring her work full-circle to instigate a more humanist dialogue in the field of networked communications.