Ana Sánchez Palomo
Becària
+34 93 308 4041
ana(at)hangar.org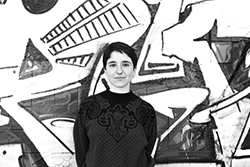 Graduated in Philosophy, with specialization in Gender Theory by the University of Barcelona and with a Master's Degree in Cultural Heritage Management and Museology from the same center.
Thanks to the European Volunteer Service, she has been able to collaborate for one year in project management at Concordia, a French cultural association based in Paris.
She is currently having an internship in Hangar, where she is responsible for managing the documentation, as well as supporting in some of the communication and production tasks of the center.
At the same time, she works as a producer and artist in the LaMaldita video-poetry group.