Anaisa Franco
Long-term residency
July 2020 - April 2023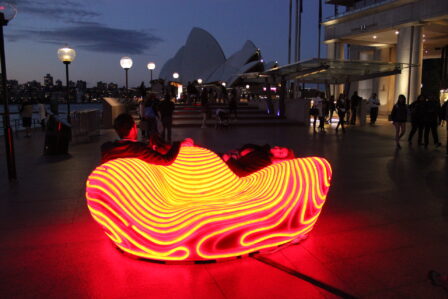 Anaisa Franco. Brazil, 1981
Anaisa Franco creates interfaces that artistically elaborate an "affective" situation where people expand their senses through the interaction with the sculptures, creating new forms, relationships and experiences between people, the subjects chosen and the technological material that we have available in the market.
She has a Master of Advanced Architecture at IAAC Institute for Advanced Architecture of Catalonia in Barcelona. One year of M-Arch 1 at SCI-Arc in Los Angeles, a master's degree MA in Digital Art and Technology from the University of Plymouth in England and a BA Bachelor of Arts in Visual Arts from FAAP in São Paulo.
In the last years she has been developing responsive public art installations and new media artworks for museums, public spaces, galleries, medialabs, residencies and commissions such as Shanghai City Life Festival, Annecy Paysages, Medialab Prado, Mecad, MIS, Hangar, Taipei Artist Village, China Academy of Public Art Research Center, Mediaestruch, Cite des Arts, ZKU, SP_Urban, MAC Fenosa, VIVID Sydney, EXPERIMENTA Biennale Melbourne, RUMOS Itaú Cultural, URBE, and many others.
Hangar Studio Visit 2020