2 WORKSHOP GRANTS, RESULTING WORKS TO BE PRESENTED AT CCCB
Mercat de les Flors, el Festival LOOP/ The Screen from Barcelona and HANGAR offer:
WORKSHOP + PRESENTATION OF RESULTING WORKS AT CCCB. FLAMENCO_VISUAL ARTISTS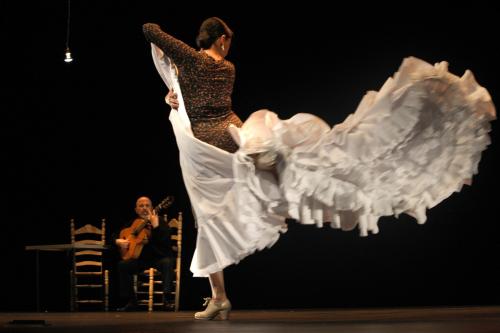 This year, LOOP's program will revolve around an axis that observes art practices emerging from the intersection between video, performing arts, and art performance. Within this framework, LOOP '11 festival, in collaboration with the Mercat de les Flors and Hangar, are proposing two short workshops, with the aim of bringing together artists, dancers and musicians to work on a common project to be presented at the CCCB during LOOP festival and the 3rd  Flamenco Empírico series, curated by Juan Carlos Lérida and organised by the Mercat de les Flors. Flamenco Empírico is part of the Flamenco Festival of Ciutat Vella. 
The grant is for two artists who will use sound and the moving image to establish a creative dialogue with the participants of Flamenco Empírico. 
The artists and dancers are expected to work intensively during a brief period of time in order to build the piece to be presented at the CCCB after the workshop, contributing their experiences and disciplines into it. 
(Please find the calendar details below)   
These research and creativity workshops are part of the section "Beating around the Bush" of Flamenco Empírico, and will be presented within the programme of the 18th Ciutat Vella Festival. 
Project and Participant Description

1. This year, Flamenco Empírico is honoured by the presence of José Losada "Carrete", whose dancing style and personality have been an inspiration to many. An video artist will be invited to participate in a collaborative project with "Carrete", in order to re-examine the pioneering universe of Vicente Escudero -singer and choreographer-, and thus establish links with "Carrete"'s narrated and danced experiences. This will be accompanied by flamenco music and song.
2. A visual artist, with the aim of establishing a dialogue between flamenco and the visual arts. The participating dancers are Florencio Campo, Juan Carlos Lérida, and Marco Vargas, and will be accompanied by Miguel de La Tolea's singing, together with the percussionist Dani Tejedor.
 Conditions and Calendar

> Each artist will receive 300€, to be spent on working material, and as an artist fee.
> The workshop will be carried out in the Pina Bausch Room at Mercat de les Flors, which will be available for the artists, dancers and singers. Hangar's Medialab, will be used for the editing of the piece. 
> The planned calendar is the following:
1. "Beat Around the Bush" Carrete
Workshop:        
18th of May at 14:00
                       19th of May from 15:30 to 20:00


Presentation:    20th of May at 20:at CCCB

2. " Irse por las Ramas" Florencio Campo, Juan Carlos Lérida, Marco Vargas + Miguel de La Tolea, Dani Tejedor
Taller:        15 de Mayo 16 a 20h
                 16 de Mayo 16 a 20h
                 17 de Mayo 16 a 20h
Presentación: 18  de Mayo 20h en el CCCB
CONTACT AND SELECTION
Those interested should send their CV and a cover letter to the following address before the 6th of May.
Festival2@loop-barcelona.com
93 215 52 60 (Julia)
The selection will be carried out by a commission made up of one member from the Mercat de les Flors, one from Loop, and one from Hangar. The selected artists will be contacted on the 10th of May.