Quadrivium, organised by Minipimer Tv in Hangar, begins this week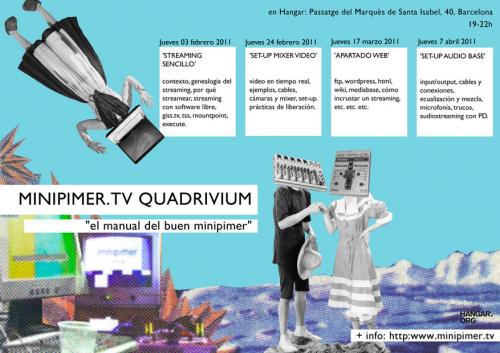 MINIPIMER TV QUADRIVIUM: "The good minipimer manual".
First season of open, free workshops.
WARNING: the methodology followed in these workshops is horizontal and collaborative.
Thursday February 3rd, 2011 – simple streaming –
Context (examples, history and genealogy of streaming) / Why stream? / Streaming with free software / giss.tv / How to create a mountpoint / TSS (configuration)  
Thursday, February 24th, 2011 – video mixer set-up –
An introduction to VJing, real time video, live cinema, etc./ Technical aspects (cables, cameras, EDIROL and Canopus) / Practical aspects: building the set-up / Experimental aspect: audiovisual liberation practices in real time, using multicamera.
Thursday, 17th of March 2011 – Web Section –
Ftp / WordPress / HTML / Wiki / Mediabase / How to insert streaming into worpress / etc.

Thursday, April 7th, 2011 – basic audio set-up –
Audio input-output / Types of cables an connections / Mixing and equalising /  Microphones / Basic tricks / Audio stream with Pure Data
All the sessions will take place between 19:00 and 22:00.
Enrolment
: minipimertv(at)gmail.com
+info