June 5th and 6th: Second Part of FASEII (Group II)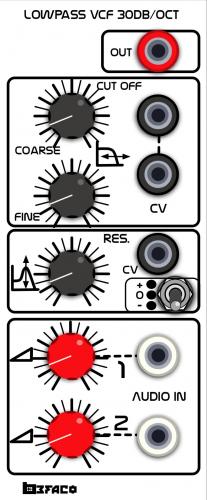 Starting at 11.00, at Hangar's multi-purpose space.
VCF: This is a revision of the low pass filter proposed by Ray Wilson with the addition of one more phase in order to obtain the 30dB/oct, as it can also be of interest to have different feedback points. By having another filter phase, we have added the following possibilities:
-Negative feedback that when turned up creates a sinusoid oscillation on the output of the frequency indicated by the VC.
-Positive feedback that creates a fairly strange oscillation, or no feedback, which leaves the sound very clean.
The control of the feedback quantity is VC manual.
It is a simple module that is presented with an aluminium measuring 55 x 133mm. Just like it was done during the last workshop, the silkscreen and the drilling will be done on the first day in order to varnish it and have it ready on the second day.
Power supply:
+-15v, 50VA is what this source, regulated by LM325N, will supply. At the same time, we will present an introduction to printed circuit DIY with a method of toner transfer that uses heat, so that we will begin on Sunday 18th by making the printed circuit in order to then fill it with what is needed to make our source work.
Requirements:
It isn't strictly necessary to have knowledge of electronics, but it is important to have some capability for meticulous work, as well as a good dose of patience. If you have your own tools (soldering iron, pliers, etc.), bring them along. If not, you can use ours.
Cost:
VCF: 80€
Power supply: 40€
You may choose to do one or the other, or both; there is space for 15 people to work comfortably.
Enrolment:
jano(at)gmail.com
For queries: punkifusa (at)llistes.hangar.org).
Participants will be accepted on a first come, first served basis.