EXHIBITION OF ARTISTS FROM HANGAR AT THE FRENCH INSTITUTE
The exhibition Encreuament will be on show at the French Institute from the 1st to the 13th of December, 2010.
Opening on Wednesday 1st of December at 8pm
This exhibition presents artists who received exchange grants with the international grants programme: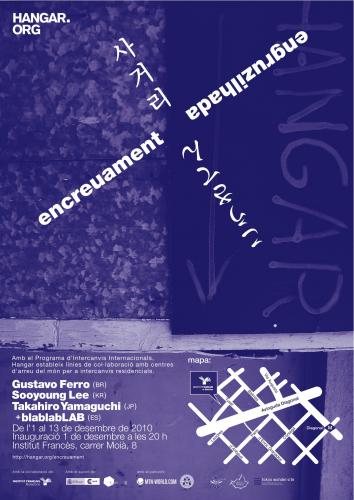 Gustavo Ferro, Casa das Caldeiras in Sao Paulo (Brazil),
Sooyoung Lee, Art Space_Geumcheon, in Seoul (South Korea),
Takahiro Yamaguchi, TWS in Tokyo, (Japan),
with the collaboration of blablabLAB (Spain).
Instituo Francés, Calle Moiá, 8
Free entry and drinks!
http://hangar.org/encreuament