Risking Everything: Twelve proposals for the theatre
Tuesday 27, 19h30-22h30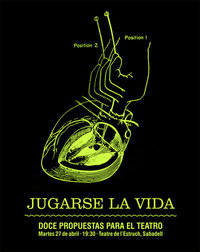 *GETTING THERE
Sant Andreu-Sabadell express
Centre Cívic Sant Andreu (c/ Gran de Sant Andreu, 111)
18h00 + Coffee + brief introduction + free renfe group trip
*RETURN TRIP
FREE BUS from l'Estruch to Barcelona-Pl.Catalunya
————————————————-
Gerard Ortín – Sin Título (Quijada)
Ana Garcia-Pineda – Caminar sobre posavasos (extract)
Xavier Ristol – El Falso Pulgar
Aníbal Parada – Gimnasio Mediterrani
Helena Kotnik – I'm perform
Laia Pineda-Iglesias – Entre nosaltres
David F. Mutiloa – Descanso 15min.
Alejandra Mizrahi – 290 tomates print *
Rasmus G. Nilausen – La pintura perfecta
Dario Reina – Sobre columnas, cartón y otras historias
Daniel Jacoby – Untitled Story (Vol. 1)
Tamara Kuselman – Encontrarse con otro (theatre version)
Alex Reynolds – Una chica, una pistola, un coche
Next Tuesday, 12 proposals from participants in the workshop "Risking Everything" will be presented in the l'Estruch theatre. Each proposal will last around 15 minutes and is the result of work carried out by these participants in the workshop.
"Risking Everything" was directed by David Bestué and Marc Vives between January and April 2010, for NauEstruch's new phase as a space specializing in the practice of performance in l'Estruch. Its focal point has been the idea of limitation, reflecting on the relevance of this concept in contemporary artistic production. Each participant was given the exercise of of coming up with a proposal that would take place in the theatre within a very limited timeframe. In order to develop these proposals during the workshop, very different types of materials were made available and work processes were shared out, taking into account the different creative areas of each person taking part (involving artistic creation, music, interpretation or dance).
For those of you who wish to come to NauSud in advance, some of the projects on exhibition are by Nico Baixas, Lluis Alabern and parallel works to those carried out by the workshop's participants, TAMARA KUSELMAN & ALEJANDRA MIZRAHI (along with Pilar Talavera).
C/ Sant Isidre, 140,
08208 Sabadell
93 717 25 71
FGC. S2 Sabadell. Sabadell-Rambla station.
http://www.fgc.es/accessible/esp/linies.asp?linia=valles&id=S2