New program of continuous training courses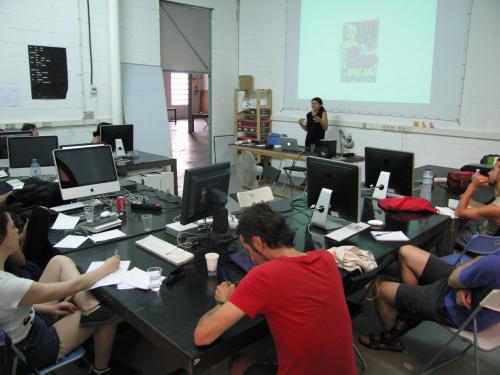 Here are our upcoming courses of Continuous Training for Visual Artists. Enrolment is now open!
Online media/electronic publishing
This is an intenisve course in which the participants will learn to use the tools needed to publish and promote content on the Web. They will become familiar with the use of social networks specific to artists, and will design their own blog and their online communication strategy.
Dates: 27th, 28th, 29th and 30th of September, from 17:00 to 20:00.
Taught by: Andrea García
Location: Hangar, Passatge del Marquès de Santa Isabel, 40. Can Ricart, Barcelona
Fee: 60€. 30€ for members of the AAVC
ENROL HERE
Tax and financial management for artists
This course is aimed at artists who are looking to have a specific and solid base in order to efficiently manage their ÁMBITO FISCl in their professional practice, as well as to get to know the basic tools for professional accounting.
Dates: 4th, 5th, 6th, 7th, 13th and 14th of October, from 17:00 to 20:00.
Taught by: Josep Guiu (Brun i Guiu advocats)
Location: Pati Manning. Carrer de Montalegre, 7, 08001, Barcelona.
Fee: 80€, 40€ for members of the AAVC
ENROL HERE

Introduction to Spreadsheets
This intensive course aims to provide the necessary basics for using spreadsheets(OpenOffice).
Dates: 1st and 8th of October, from 17:00 to 20:00.
Taught by: Clara Guiu
Location: Hangar, Passatge del Marquès de Santa Isabel, 40. Can Ricart, Barcelona
Fee: 60€, 30€ for members of the AAVC
ENROL HERE
Enrolment will soon be open for the next courses that will take place this year (dates are subject to change):
Digital video: technology and methodology: 18th, 19th, 20th, 21st and 22nd of October
How to present and communicate your professional career: 26th, 27th, and 28th of October and 2nd, 3rd and 4th of November.
Production I. Fundraising: How to finance your project: 5th, 8th and 10th of November
Production II. Production for audiovisual projects: 9th, 11th and 12th of November
Statement Workshop: 13th of November
Introduction to interactive systems: 15th, 16th, 17th, 18th and 19th of November
The artist's contract. Contract examples and copyright: 22nd, 23rd, 24th, 25th and 26th of November
Introduction to the processes for working with sound: 29th and 30th of November and 1st, 2nd and 3rd of December
Applications of graphic design in artistic processes: 9th, 10th, 13th, 14th and 15th of December