Presentation of the project "Youth, Identity and Creativity"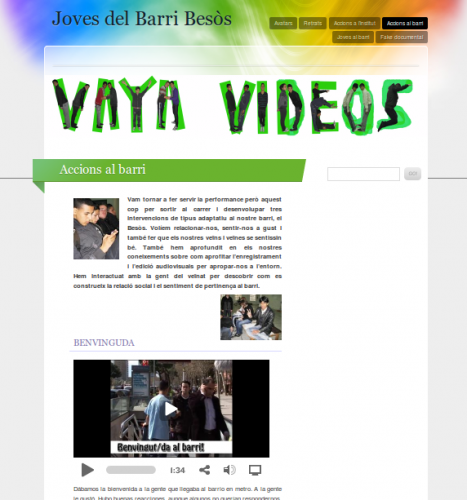 Next Wednesday 15th of June at 18:00, there will be a public presentation of the works developed as a result of the Youth, Identity and Creativity project, in the auditorium of the Besòs Community Centre. This project took place this year, together with a group from the 3 ESO class in the Besòs secondary school and four other youth groups and youth services from Besòs-Maresme in Barcelona.
The coordination and development of the project was done together with Hanga, Les Salonnières and Teleduca. Educació i Comunicació, with the support of the "La Caixa" Foundation, the Barcelona City Council – Sant Martí District and Community Plan in Besòs-Maresme. Other collaborators include the Institut del Barri in Besòs, the AFEV Group, the "El Vaixell" Municipal Children's Centre, the Besòs Community Centre and the Centre for Social Services in the Besòs.
Youth, Identity and Creativity
This project was made together with the 3 ESO C class in the Besòs secondary school during two school terms -between January and June 2011. It was also timed to be carried out at the same time as a process of audiovisual practice addressed to groups of young people and to youth services in the neighbourhood: Free Besòs, Grup AFEV, Zona Zero and Joves d'Arreu del Món, which took place between the end of April and the middle of June 2011. 
The project aims to promote creativity through audiovisual technology, integrating learning and knowledge that favours creativity and the construction of a personal discourse, and working on the representation of identity (personal, of a group or of another), using video.
During the social and educational process that has been carried out at the school, we have stressed questions such as the promotion of cultural diversity and social integration, and of the interaction and participation of students with the neighbourhood, trying to introduce a new gaze towards the environment. This part of the project was divided into three stages that have combined performative actions with video production. With the former, the group of students created their imagined self and made an autobiographic video-story, after which they made videos of three performative actions in school, three others in the neighbourhood, and finally made a documentary about their environment.
Regarding the involvement with youth groups and youth services from the Besòs-Maresme, the priority has been to use video as a tool for mutual knowledge, and also for creating a relationships between the particpating youths. The starting point was a meeting between them, so that Free Besòs could make the video for the Grup AFEV, and Group AFEV that of Free Besòs, just like Zona Zero created the video of the Joves Arreu del Món, and the Joves Arreu del Món made the one of Zona Zero.

You may visit the project's blog here.
(The sections Joves al Barri and Fake Documental will be updated after the presentation)