Activity Programme for "Hangar Obert"
Just like every year, Hangar will be taking part in Tallers Oberts Poblenou, an initiative that opens the studios of artists and craftsmen from the neighbourhood, and creates an extensive programme of activities. As well as opening their studios to the public, Hangar's resident artists have prepared a programme of activities, which include an interactive installation, concerts, and performances with applause metre, a screening of the Champions final, and a bar with drinks and sandwiches.
Saturday 28th
-from 11:00 to 14:00 and from 17:00 to 20:00: Studio visits to resident artists' studios: Joan Cabrer, Jordi Ferreiro, Cooperativa General Humana, Mariana Zamarbide, Mercè Hernández, Rita Rodríguez, Samuel Labadie, Sergi Botella, Fito Conesa, Toni Hervàs, Guillermo Pfaff, Pere Llobera, Isabel Servera, weareqq, Tamara Kuselman, Ainara Elgoibar, Paul Sermon & Charlotte Gould, Mireia C. Saladrigues, and MINIATURE.
-from 17:00 to 19:00 (from 16:00 to 18:00 in Manchester)
All the World's a Screen An interactive installation by Paul Sermon and Charlotte Gould
An interactive telematics project made by Charlotte Gould and Paul Sermon
, developed during their stay MACBA's Study and Documentation Centre, which coincided with their residency in Hangar. The audience from Manchester will join that from Barcelona through the screen in order to create their own experience of generative interactive cinema, with sets, costumes, and all sorts of film props. Using Hitchcock's techniques, the artists have made a miniature film set within which the audience may act and direct their own film, taking the participants to animated sets and environments within which to create their own particular narratives. The participants from Manchester will be transported to this experience of interactive telepresence through the use of a blue box studio, so that they can join the "actors" from Barcelona in the theatrical context of the maquette that makes up the stage. With the collaboration of MACBA +info
Saturday 28th, from 19:00 to 23:00: Multi-purpose Session 01 + Champions Final

The Multi-purpose sessions take place twice a month, and are managed by the resident artists in Hangar's multi-purpose space. These sessions create a space for experimentation and include actions and activities of every kind: conferences, joint actions, parallel programmes, etc.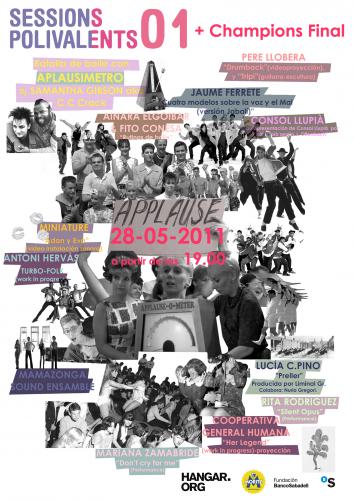 Session 01: Sound
The space will be split into two stages where different actions will be taking place simultaneously, the absolute judge being the APPLAUSE METRE:
Ainara Elgoibar & Fito Conesa : "Rutinas de baile" and Resistencia.
Dance battle with Applause metre, music by Samantha Gibson aka C.C Crack
Pere Llobera: Drumback(video screening),y Tripi(guitar-sculpture)
Rita Rodríguez: Silent Opus (Performance)
Mariana Zamabride: Don't cry for me (Performance)
MINIATURE: Adan y Eva "sound video installation"
Cooperativa General Humana: Her Legend (work in progress)-screening
Antoni Hervàs: TURBO-FOLK (work in progress)
Consol Llupià: "La autopresentación de Consol Llupià  por Consol Llupià según J. Offenbach"
Lucía C.Pino, "Preller". produced by Liminal Gr. Collaborators: Nuria Gregori.
Jaume Ferrete: cuatro modelos sobre la voz y el Mal (versión Jabalí)
MAMAZONGA SOUND ENSAMBLE.
A space will be provided for the screening of the Champions final.
Sunday 29th
-from 11:00 to 14:00, and from 17:00 to 20:00: Studio visits to resident artists' studios

-from 17:00 to 19:00 The Seven Stages of man. An interactive installation by Paul Sermon and Charlotte Gould.  With the collaboration of MACBA
Sponsored by:
Collaborators: