Round Trip. Loop's Conversation. Nikita Yiangkiang/ Mariana Zamarbide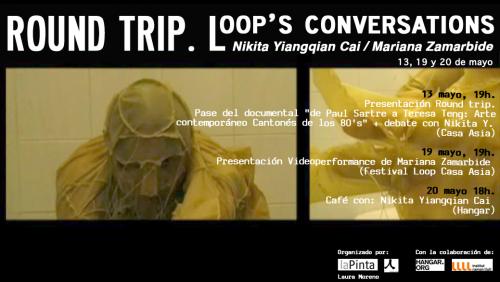 From the 13th to the 20th of May "Round Trip. Loop's Conversations", a meeting between the artist Mariana Zamarbide and the curator Nikita Yingqian Cai will take place in Barcelona, with the aim of promoting exchange and knowledge about contemporary art. 
Curator and artist met within the context of the third "Se Busca curator", organised by the cultural association LaPinta. The work between them investigates the performative nature of their work, the documentation and communication of the finished works, once outside the studio space. 
A series of activities has been organised around these issues. On the 13th of May, at 19:00, the project will be presented in Casa Asia, together with a screening of the documentary "from Paul Sartre to Teresa Teng: Cantonese contemporary art from the 80s". After the screening, there will be a conference where Nikita Yingqian Cai will cover the contents of the documentary, relating it to the present status of contemporary art in the area of the Pearl Riber Delta, and the practice and programme of the Times Museum. 
On the 19th of May, Mariana Zamarbide will show her video performance work in Casa Asia, within the framework of the video art festival Loop, which will be taking place all over Barcelona. These films gravitate around her own personal situation and over specific moments when the interior and exterior world become confused and contradict each other. 
As a farewell, on the 20th of May, at 18:00, Nikita Yingqian Cai will conduct "Coffee with Nikita Yingqian Cai" in HANGAR, the centre for production and research in the visual arts. This will be a talk amongst artists, curators and Nikita herself, about the relationship that contemporary art maintains with urban transformation and how it operates in terms of the development of the artistic centralisation or de-centralisation of cities.