Rarefacció: Ikram Bouloum / TUTU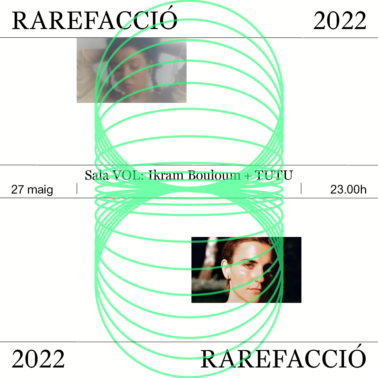 On May 27th at 11 p.m. at Sala VOL in Poblenou, Hangar presents the last session of the present edition of Rarefacció, a listening cycle curated by Sergi Botella that aims to present proposals that revolve around music and sound from an experimental and unconventional point of view. The guests for this session are Ikram Bouloum and TUTU.
Ikram Bouloum / TUTU

Date: May 27, 2022
Time & Place: 11 pm / Sala VOL
Price: € 5
Buy your ticket HERE
Ikram Bouloum is an artistic driving force in many directions. Of Moroccan parents and born in Torelló (Catalonia), Ikram has been living in Barcelona for the past ten years, and has developed as a cultural agitator, participating in the programming and research of numerous projects and DJing in many of the city's clubs and parties. Her sessions are conceived as a form of narrative, a kind of sound literature, and her utopia of a club is a polyphonic space where many voices are represented at the same time. In 2021 Ikram released her  first EP, Ha-bb5, which unites a tragedy and a birth over 5 tracks produced by Mans O. The project aims to deploy an aesthetic dialogue between the most contemporary Western electronica and a personal reinterpretation of the popular and dance music aesthetics of the Maghreb.
TUTU's sessions are odes to life, between pure adrenaline and the most genuine curiosity. Like windows that open to horizons both near and faraway, her sets traverse the landscape with the same intensity with which she lives other creative facets of her life. With a spectrum of sounds ranging from bass house to cosmic trance, abstract grime, schizophrenic tribalism and acid techno, on the decks Tutu can navigate from underground dance to the most experimental sounds, directing your feet and keeping your brain engaged with skin-tingling sensations.
The event will be carried out following all security measures.

With the support of:

In collaboration with: