Rarefacció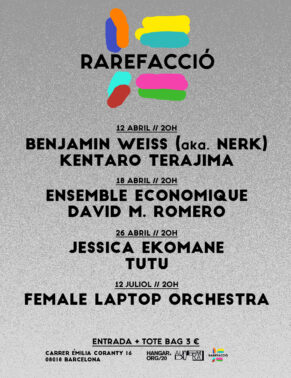 Rarefacció is a four-day cycle of auditions held in Hangar's Sala Ricson as part of the Audio Formal programme.
Curated by Sergi Botella, the cycle is made up of a selection of artists who work with audio, either live or in dj sessions. All of them have in common an evolutionary and analytical perspective in the way of working with sound. In their different formats, the theorisation of their acoustic practices gives their proposals a critical capacity in contemporary creation on the one hand and, on the other, they help to rethink the misunderstood label of Sound Art to include, without complexes, music, sound and its derivatives as an artistic creation as legitimate as text, painting or spoken word.
Four days of varied proposals, from Benjamin Weiss's knowledge of music software engineering, Braindance collages from TUTU sessions, Jessica Ekomane's psychoacoustics and the current perspective of club music proposed by David M. Romero as a dj or from his label angoisse.
PROGRAM
April 12
Benjamin Weiss (aka Nerk) / Kentaro Terajima
April 19
Ensemble Economique / David M. Romero
April 26
Jessika Ekomane / Tutu
July 12
Female Laptop Orchestra
Design: Andrejs Vīksna