Kinescoping 16mm workshop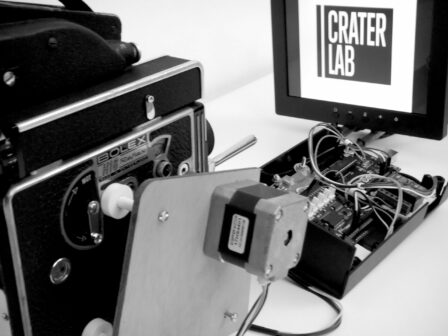 Project in residence Crater-lab will be holding the Kinescoping 16mm workshop at the Hangar.
Kinescoping is the system of copying a digital moving image file onto a photochemical support. In this case, using Arduino, 3D printing and laser cutting, a DYS digital to film transfer system has been built, adapted to the Bolex for 16mm shooting.
This system allows the frame to frame copy of a .mov file to 16mm, as well as some variations such as slow or fast motion, reframing, or overprints and multi-layers during the filming/copying of each frame.
The theoretical part of the workshop will reflect on digital and analogue hybridisations, as well as the infinite possibilities offered by the digital intermediate to move between film and video, making the most of its practical and aesthetic qualities.
We will also explore the possibilities of the digital to film, starting with the use of the participants' material or, failing that, archival material, to transfer the copy of a negative – or a positive – to positive and all its variants, with the use and study of different copy film emulsions (colour and black and white), studying and getting to know the possibilities and aesthetic strategies of each.
Each participant will be able to bring a digital file in colour and/or black and white to be transferred to 16mm. The workshop includes film and developing.
Practical information
Day: 15th April
Time: 10 am to 2 pm and 4 to 8 pm
Place: Crater Lab: Hangar, Door T
Participants: limited to 12 people
Price: €50
Registration by email to craterlaboratorio@gmail.com