Rarefacció: Giulia Deval / Niklas Reppel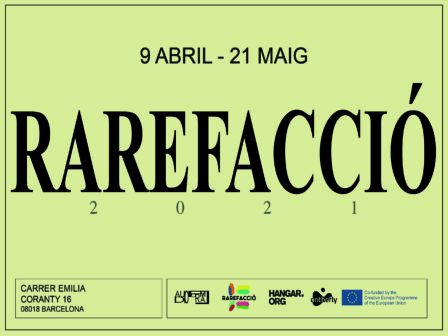 On April 30th at 6 pm, Hangar will be presenting the fourth session of Rarefacció, a cycle curated by Sergi Botella that aims to present proposals that revolve around music and the underbelly of an experimental and unconventional viewpoint. The guests for this session are Giulia Deval and Niklas Reppel.
Giulia Deval / Niklas Reppel
Date: April 30, 2021
Time: 6 pm
Price: 3 euros
Rarefacció's audio will be available live at https://live.hangar.org/#rarefaccio
Giulia Deval is a singer and sound artist from Italy working across different formats such as live sets, creation of sound dresses, concerts of imaginary characters and collective actions for voices and magnetic tapes set in dystopian futures. Her latest work Terrapolis, released by the Italian label ANS, is a solo album in which voice and tapes play with the idea of multispecies, creating extra-human sound notes.
Terrapolis is a fictional integral equation, a speculative fabulation.
Terrapolis is n-dimensional niche space for multi species be-coming-with.
Terrapolis is open worldly, indeterminate and poly temporal.
Terrapolis is a chimera of materials, languages, histories. Terrapolis is for companion species, cum panis, with bread, at a table together – not "post human" but "com-post"*
Niklas Reppel
Niklas Reppel (*1983, Witten/Ruhr) is a live coder, composer and audio software developer currently based in Barcelona, where he found a home in the local TOPLAP community. Often he is more involved in making live coding tools (i.e. Mégra, his main performance software) than actually using them. He comes from a multifaceted musical background that features everything from jammy rock bands to contemporary chamber music ensembles, improvisation, eclecticism and Markov chains play a major role in his current live coding works.
For more information, see: https://parkellipsen.de, or, on Mégra: https://github.com/the-drunk-coder/megra
Niklas Reppel performance is part of the European project On-the-fly funded by the Creative Europe Program.
The event will be carried out following all security measures.
Attendance will be on a first-come, first-served basis.
Supported by: