DJing as a way to connect with people. Interview with Kentaro Terajima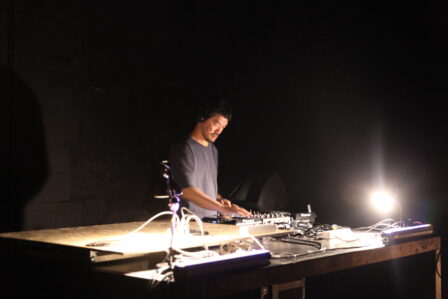 On the occasion of Rarefacció, the music and sound program of Audio Formal, Andrejs Vīksna interviews Kentaro Terajima, who is in charge of opening the first session of this cycle.
Kentaro Terajima grew up in Tokyo. In the midst of all the subcultural diversity of the 90s, Kentaro discovers techno and decides for it. He now lives in Barcelona and works as a graphic designer, but is still linked to the Berlin techno scene.
ANDREJS VIKSNA. How did you start DJing and how has this evolved over time?
KENTARO TERAJIMA. Similar to other melomanes, I wanted to play some music instruments. In my case it was mixer and turntables. Back then music production was a bit more expensive and difficult to access.
A. V. You mainly work as a graphic designer. What has this experience brought to you as a DJ?
K. T. 
I started DJing and organizing parties with friends when I was a student, it was before I started working as a graphic designer. I was making flyers for some parties at that time. I was not studying graphic design, but I liked to do it. Late 90s and early 00s was a transition moment in graphic design, because it became computerized. There were many job opportunities even for people who didn't have the right education and many people including me started working as graphic designers.
A. V. You are originally from Tokyo, but you have moved around a lot and now you are settled in Barcelona. Why have you chosen to live in Barcelona and what are the things you like about this city?

K. T. I really wanted to live in Europe. I went to Berlin for the first time in 1998 and it was mainly because of the techno scene. I enjoyed the city a lot and later I spent some time there almost every year, although at that time I didn't consider living there. Then I went to US to practice English and I met some people from Barcelona. I visited them after my stay in US, and discovered that Barcelona is a nice city: the weather is great, the food as well and it is close to Berlin.
A. V. Has your upbringing in Tokyo influenced your taste in music?

K. T. Definitely. Subcultures dominated Tokyo in the mid and late 90s, and techno was one of them. Some of the first generation techno DJs in Japan had strong bounds with Berlin, and they introduced techno to Japan.
A. V. Do you think music says something about the people who listen to it?

K. T. I don't think that everybody likes techno and the things I play, but there are people who tell me that they enjoy it and it makes me happy. For me techno has also served as a way to connect with people.
A. V. I recently watched a live recording from Nick Cave & The Bad Seeds performance. I had known this before, but watching it I was struck by how much rock concerts sometimes look like a worship of a religious cult and how much power the performer has over audience. A DJ set is obviously not a rock concert, but you are still a performer: how does it feel to see people dancing and reacting to the music you are playing? What do you feel during the performance?

K. T. When I play at parties, I try to interact with the dance floor and I enjoy it when it happens. I am not a DJ that just puts on some music for people to dance to – I look at the dance floor searching for hints and ideas for the next track. 
DJ set is much more flexible than a concert, because there is no fixed track order. Sometimes sets go well, but sometimes they don't, because I can't always connect and find a song match to what is needed for the people on the dance floor. But it is interesting for me. As a graphic designer I don't see my clients and I don't know whether they are happy or not, but I see the reaction of people that I play music to. As a DJ I can also change the track and whole situation if I see negative reaction on the dance floor. I really like this part of DJing, it is quite interactive.
A. V. What makes a good DJ set?

K. T. People in the dance floor.
A. V. How do you build your sets, what is the starting point?

K. T. It depends on the time I start to play and the length of my set. But the starting point of my sets is always the situation on the dance floor.
A. V. Apart from putting together the set, how do you prepare for a performance?

K. T. I just choose some variety of records or tracks to bring…
A. V. If you would have to design a poster for techno as a genre, what would it look like?

K. T. Any design is possible… When I was introduced to techno and graphic design there were already many designs, and I am very used to them. I don't have my own visual image of techno. Maybe it is the characteristics of techno?