Paratext #44 by Blanca del Río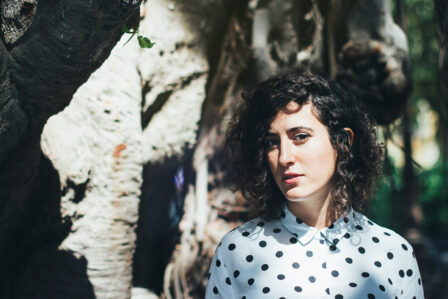 Paratext #44
October 2nd, 2020
By Blanca del Río

Featuring:
Michael Lawton (Production grant)
Julia Gorostidi (Long stay)
Francisca Trobok (International residency)
Paula Bruna (Long stay)
I find it impossible to write this Paratext without saying that it was scheduled for this past March 25. I also feel I must admit that when that day arrived and I was confined at home, I was relieved because, like so many other things, the event had been suspended. And it is not because I did not
welcome with great joy the invitation to write about the resident presentations, on the contrary. I was simply relieved because I had been able to stop and the world was doing the same thing along with me, I was finally finding that much-needed attunement with my surroundings. This was not just a personal thing, multiple conversations with friends via the screen during those days shared that feeling: the world was moving much faster than we could endure.
Just as before all this started, the alarm clock was still set to go off at 8:00 am. I made a great effort to maintain some basic routines: get up at the same time now during the week, break up the morning with a piece of fruit, or lunch around 1:30 pm, the same as I did in the museum canteen. I also incorporated some new habits, such as short naps from Monday to Friday, which continued until the end of the summer. I remembered that a few years ago when I went through a grieving process, my therapist advised me that having some daily routines would help me to help myself. I tried it again and it worked. This cessation of activity also allowed me to pay attention to feelings that I normally find difficult to address because of the urgency of day-to-day life or because I unconsciously cover them up. Among the feelings of fear, uncertainty, or sadness in which I moved those days, relief would assail me very often.
I must also admit that working in this context sometimes overwhelms me and that now and then I have to embitter myself. Like a little animal when it feels threatened by something unknown to it. So, the peacefulness I felt at the beginning of the closing time, I think it also stemmed from that. This is something common among those of us who dedicate ourselves to these endeavors, but it seems that on many occasions it is difficult for us to recognize it publicly.
However, despite all that I have said, I decided that I had to get out, so little by little, and during the following months, I started to show up in some places. One of them was in the Paratext 44, in the presentations of Michael Lawton, Julia Gorostidi, Francisca Tobok and Paula Bruna. I went to Hangar accompanied by good friends. In the Ricson Lounge, it was hot, darkness bathed the room and at times it was in addition to the mask a bit suffocating. So, with less capacity than usual and with the chairs separated about a meter away, the Paratext began.
I think it is important to reconstruct some situations surrounding the event that occurred during those months. After all, when you ask for an account of the presentations of the artists' work, you are requesting a memory exercise that will later be recorded by writing. And it turns out that when I start to write this text, everything that surrounded me on that March 25th does not cease to assail me. Remembering is a task that involves getting rid of the exactitudes of the past, it is an impure time in which a specific image, an insignificant gesture, or an apparently isolated word can forcefully impose itself. Parts of a past that I want to rescue because what in principle may seem anecdotal, when recorded and attended to, may have great strength.
Thus, the event began with the room illuminated through a projection of Michael Lawton's works. Ten large-format paintings that he had made at Hangar during his long-term stay (May 2018-2020) and which appeared full of color. Lawton's practice is situated between two different languages, between writing and painting. Both practices start, on one hand, from events or situations that have to do with his immediate environment or are also speculations about possible scenarios. All this is elaborated and translated, in the case of paintings, into abstract compositions, and in the case of writings, it is about apparently everyday stories but with a dark or sinister background.
Lawton clarified for us that when he is painting, he does not think about the text and vice versa, that both practices have their limits: a work (both writing and painting) are self-enclosed practices, they are themselves the ones that contain the code of their interpretation. To tense, the edges of each one of them is something that the artist constantly tries to do. It happens when she associates certain words to painting or when she decides to approach the presentation for this Paratext by showing us ten oil paintings created during the residency and reading us alternate chapters of a text also written during that time.
Julia Gorostidi, on the other hand, showed us fragments of a film still to be finished. We find ourselves once again with this idea that everyday situations can condition the future. She began by recounting two episodes from her childhood: she played Mary Magdalene and Paris, prince of Troy, in two theatrical performances at school. From that moment on, she began to feel very concerned about the models that inhabit us: the woman as a saint or prostitute and the man as a war hero. This concern became more acute when she became pregnant and thought about the responsibility, she had to present her child models with different parameters. Then she decided to take a trip through the Colombian Cundiboyacense plateau in search of Muisca myths and legends starring other archetypes because those who populate the western stories in Gorostidi did not seem enough for her. The story of the journey was divided into several starring characters encapsulations related to this village and who guided him through this territory: the bear, the cat, or the wind, among others. They explained what the woman's role was and he found that each one explained it to him in a dissimilar way.
The Muisca never developed writing, so the sources that are usually handled are those contained in the chronicles of the colonizers or the official records. But there is a long oral tradition in which myths, deities, or cosmogony circulate, and which has been transferred from generation to generation. A living and changing memory, but as the artist pointed out, it also spoke to us about each one of those who told it.
The rhythm of the event changed with the presentation of Francisca Trobok, a short-stay international resident. Her practice is multidisciplinary through different scenic languages she explores issues related to identity and the body, which she materializes through sound fragments and video, as well as through performance or collages, amongst many other formats. This hybridization and methodological overflows were evident in his presentation. She presented Proyecto Machona. Deviant journeys. Machona is a body dance personage, a Bolivian dance that Trobok has been practicing for years. This character embodied by the artist was presented on the right side of the room, screened in a video in which images of her work process were collected. On the other side, on the left of the room, the artist placed her own body to narrate the layers that make up this character: the first of them, the body. But it is an unstable body, fragile but vibrant. In the second, La Machona also builds a habitat, constituted as a network, connected. The third layer of the world of this character is sound, with an element as a protagonist, the rattle bell, which never goes unnoticed. Finally, Machona has a language in which the digraph "ch" is the center of her language and around it, the artist created a poem with which she ended her presentation. In conclusion, La Machona is an incarnated research, which comes to break and transgresses the norms of heteronormative representation.
When I was ending this text, I came across another one by Paula Bruna, the last artist to be presented in this Paratext, which was also published on Hangar's web page last March 19th. It was titled This was not the pattern we wanted, and I was struck by a very similar feeling to that which I mentioned at the beginning of this text. A need to stop before the frantic pace to which we were subjected. I also stated that many of us wanted a hiatus, but not of this kind. Now, months later, we find ourselves in a different situation. The total standstill -for the time being- has ended and we find ourselves with more or less the same distress, more fed up and worn out. We also have less and less capacity to imagine a better future.
Paula Bruna was not able to join us for the presentation, so she sent a video that we watched at the end of the Paratext. The artist's passage through Hangar comes from long ago: she arrived in 2017 for a short term and then returned in 2018 for a long-term residency and that ended in 2020.
During her stay in this center, she observed how a branch grew through a wall in front of her studio, and through it, she was telling us about the passage of time. Her journey through space began with her Plantocene research project, which refers to a fictionalized geological epoch in which plants' point of view prevails over that of human beings. To immerse oneself in this project means to situate oneself in another place, to leave our hegemonic centrality. And this is what the artist engaged in during her residency: she created organic processes that she observed very closely. She also talked to us about the workshop "Ecoficciones", within the larger program "Ficciones del desórden" (Fictions of Disorder). She also referred to all the human and non-human companions with whom she was in contact: spiders, mice, or pigeons that peeked through the windows of her studio, and that during the lockdown could walk freely around Hangar. Also, mold, the result of the building's humidity, or the plants that were not allowed to grow, and that also reminded me of my gray hair that grew without any restrictions during those months or my nails underneath the semi-permanent nail polish that I didn't manage to remove.