Claire Nichols
Short term residency
July - August 2021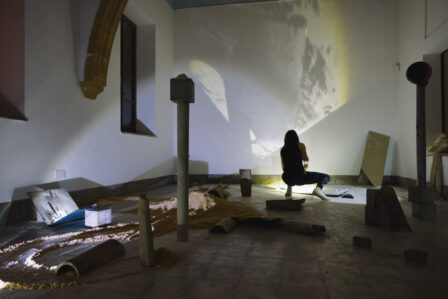 Claire Nichols. Hertfordshire, 1984
Claire Nichols' work emerges from a deep interest in materiality and collaboration. She creates sculptural eco-systems which negotiate the codes and rhythms of chosen sites, and generate new performative and inter-disciplinary encounters. Since 2017, she has been developing an ongoing body of work entitled Variations, through which she brings found and fabricated materials together in a continuous process of making and remaking.
Claire is attracted to materials that are discarded, and have a sense of being caught in a temporal loop between abandonment and future potential. These materials include gravel, flour, bricks, light, wood, metals, mirrored glass and fishing nets. Each material carries a sense of its past life and function, but also holds an other-worldly quality in its visual and auditory tactility. Many of these materials do not have one set form: they are piles of rubble or flour that can be dispersed, fishing nets that can be deformed, mirrors holding transitory reflections and lights that can create temporary shadows. They offer the possibility of an evolving relationship; moveable graphic and geometric configurations that open up an abstract space of possibility.
Operating more like organisms than static installations, the resulting Variations are living systems that are open to changes of structure, material and balance. In each iteration, Claire creates an evolving sculptural 'scene' where the live, improvised moment of performance becomes a ritualistic meeting point for sculpture, music and movement.
Claire is a British and French artist based in London. She completed her MFA at Goldsmiths, University of London and her BFA at the Ruskin School of Art, University of Oxford. Performances and exhibitions include Florence Trust, arebyte gallery, and David Roberts Art Foundation, London; Centre Cultural la Mercè, Girona; Despina, Rio de Janeiro; Space 118, Mumbai; and E.KA.TE, Nicosia. Claire was selected by Florence Peake and Tai Shani for the main prize at the Barbican Arts Group Trust, London, in 2018. She is a Lecturer in Fine Art at Central Saint Martins, University of the Arts London.