Open call for collectives in residence 2020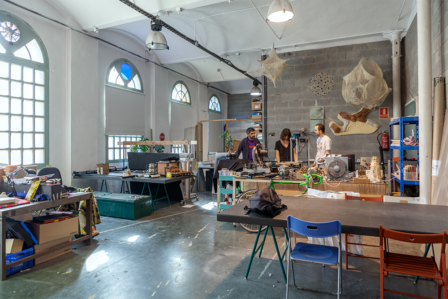 From now until 3 July 2020, the submission of applications is open.
Start of the residence: August/September 2020
Result of the selection: mid-July 2020
Cost: 85 €/month+ VAT
Deposit: 1 month payment that will be returned to the end of the stay
Conditions of the residence
Hangar's resident groups are thought of as projects capable of generating a conceptual and practical interrelationship with the centre and its communities. Their scope of work is that of theoretical or practical research, and the experimentation and development of open and freely accessible tools that facilitate creative processes and the transfer of knowledge.
What does Hangar provide?
– 24-hour access every day.
– Our own space on the ground floor of Hangar Hall 1 and free access to common areas.
– Electricity and water costs, fibre optic Internet.
– Access to the garden area and the terrace with table for eating or meeting outdoors on sunny days.
– Resident projects can make use of the following services: digital image and video editing laboratory, small set, Ricson, Polivalente, free participation in other workshops, subject to availability and prior reservation.
– Free access to all activities taking place in Hangar.
– Support in the dissemination of the projects and their activities through a space on our website and regular communication via newsletter, Twitter and Facebook.
– An open, cross-disciplinary community made up of artists, developers and other agents.
What do the resident collectives contribute to Hangar?
– Activities, theoretical knowledge through the creation of learning communities and content in the environment of their specialization.
– Transdisciplinary work methodologies that incorporate other areas not directly related to the visual art context.
– Research, creation and critical practices around production tools.
Commitments of the resident collectives
– Free advice about their practice to the centre itself and to other residents.
– Participate in the Open Thursdays to facilitate their contents and technologies to all the people who come to the centre.
– Generate and take care of learning communities around their work environment.
– Provide new services or increase the capacities of Hangar's environment and the artistic community in general.
– To contribute in the dissemination of activities and the enrichment of Hangar's programmatic lines.
– To participate in the centre's open activities.
– Contribute to the expenses derived from their presence (monthly costs)
– Include Hangar's collaboration in all communication elements of the project.
Selection process
The selection process is carried out every two years by means of a call open to any group, without restrictions of age, origin or legal form. In the first phase, a preselection is made from all the applications received and the final selection is decided by means of a personal interview with the preselected projects. The application must be made telematically. The selection process is carried out by Hangar's Program Committee.
Selection criteria
– Interest of the proposal.
– Link to Hangar's practices and communities.
– Link to other local and international spaces, entities or projects.
– Generation of critical discourses around the tools and technologies.
Required documentation
The application must be submitted in PDF format including the required fields below:
1- General information on the project. Objectives of the applicant association/entity -please specify the legal entity – (up to 2500 characters with spaces)
2- General lines of activity (up to 2500 characters with spaces)
3- Running time
4- Network(s) you are part of
5- Applicable License Types
6- Annual budget and type of funding
7- Objectives of the project in Hangar in relation to the own lines of work (up to 2500 characters with spaces)
8- Possible relationship of the project with other residents -artists + projects- (up to 2500 characters with spaces)
9- Contributions -in terms of added value and support services- of the project presented for the communities of Hangar (up to 2500 characters with spaces)
10- Hangar's contribution to the project -in terms of added value- (up to 2500 characters with spaces)
11- Timing for which you need the space (please indicate approximately how much time you would need to reside in order to consolidate the project)
12- Type of space: closed/open, m2, accessibility (up to 500 characters with spaces)
13- Uses of space (up to 500 characters with spaces)
14- Machinery/tools to be installed: please specify if they are your own or if they should be in the Hangar (up to 500 characters with spaces)
15- Number of people to permanently use the space (up to 500 characters with spaces)
16- Use frequency (up to 500 characters with spaces)
17- Other needs (up to 500 characters with spaces)
18- Return description (up to 500 characters with spaces)
IMPORTANT:
The subject of the e-mail application must be "Convocatoria abierta para colectivos en residencia 2020"
Applications that do not include the required information and/or exceed the extension limits will not be accepted.
For more information and submission of requests:
Miguel Angel de Heras
miguel(at)hangar.org