Open call: Collide Residency Award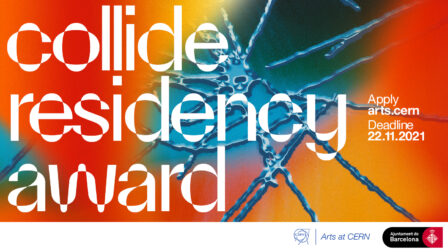 Arts at CERN launches an international call for Collide, its flagship programme consisting of a residency award of up to three months divided between CERN and the city of Barcelona. For its third edition, Arts at CERN and Barcelona are joining forces again, as part of the on-going yearly collaboration, that has been taking place since 2019, between CERN, the Institut de Cultura de Barcelona and Barcelona City Council .
Artists from across all creative disciplines and from any country in the world are invited to apply. Proposals should include a description of their artistic practices and interests and their perception of science and of how CERN scientists and engineers are pursuing the big questions about our universe.
The selected artist or collective will receive a three-month fully funded residency award allowing them to pursue their art project. They will spend two months at CERN working side by side with particle physicists, engineers and IT professionals, and one month (not necessarily consecutively)at Hangar, Centre for Art Research and Production in Barcelona. Collide seeks artists who are inspired by scientific ideas and technology concepts and interested in innovative discourse in their artistic expression.
Arts at CERN, the arts programme of the world's largest particle physics laboratory, was created to explore the notions of creativity, human ingenuity and curiosity. The Collide residency programme was established to foster networks with international organisations in order to open up new connections between art and fundamental science worldwide.
Online applications for Collide are open from 7 October until 22 November 2021. A jury of experts representing science and culture will make their decision public on the website of Arts at CERN not later than January 15, 2022 and the winning artists will begin their residencies in 2022.

You can access the call here.
Further information:
Arts.collide@cern.ch
https://arts.cern
Image: Rafa Yuste – Arst at Cern