Open Call for long-term stay at Hangar studios (2 years)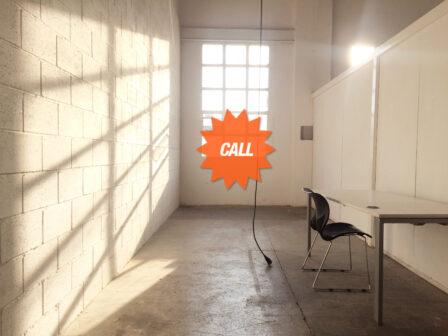 Open call for long-term stay (24 months)
Applications will be accepted from now untill  February 25th 2017
Period of residence: from May 2018 until April 2020
Rent: 130,26€/month (IVA included).
Deposit: 2 months in advance to return at the end of the residence
Application form long-term stays
· Studio Size
Between 30 and 60 m2*.
*The 30 m2 studios are for individiual use and the 60 m2 are shared studios between 2 artists.
· Benefits
Work desk, power outlets, sink, internet connection (wi-fi), showers and heating. The 
artists on a long term residency have at its disposal the following services free of charge: audiovisual equipment, the digital image lab and the self-editing suite. A plató and a multi-purpose space. Free acces to Hangar's workshops and activities and free production advice from Hangar's team. Thanks to the collaboration between Hangar and Hamaca (a distributor of video art and media art) videoartists will be able to include one video art work in their catalog.
· Applications
Once a year there is an open call for long stays. Short stays depend on studio availability.
The application is online.
 Hangar's selection committee is in charge of the selection process.
. Basic evaluation criteria:
* Correct presentation of all documents and materiasl stipulated in the open call. Required format and with the appropriate extension.
* The adjustment of personal information to the specific conditions stipulated in the open call whether it applies to the studio rent or for an exchange grant.
* Clear presentation of written and visual information.
* The quality of the artist's work in general and in particular for project being presented.
* The artists' professional approach to describing and defending their projects, in writing or during the personal interview.
Hangar does not currently provide grants to foreign artists travelling to Barcelona. All artists, regardless of their nationality, are eligible  to work in one of Hangar's studios. Travel and accommodation expenses to Barcelona, as well as the studio monthly rent shall becharged by the artist.
Contact
Sergi Botella
+34 93 308 4041 ext. 27
sergi(at)hangar.org