Presentation of the BCN>TNS>ALG Creation Residences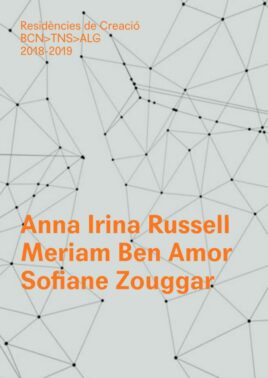 During the month of January 2019, a series of activities will take place to present the work processes and results that the artists in residence Anna Irina Russell, Meriam Ben Amor and Sofiane Zouggar have carried out in Hangar within the framework of the Creation Residences BCN>TNS>ALG.
The BCN>TNS>ALG Creation Residences have been organised by Jiser since 2010 with the intention of enabling young visual artists from Barcelona, Tunisia and Algeria to stay for two months in one of these three cities, with the aim of building bridges for cultural exchange and favouring artistic collaboration between creators from both sides of the Mediterranean. In this sense, the project will continue in Tunisia from May to June and will end in Algiers from September to October.
On January 16th at 6.30 p.m. Jiser launches the #O6 in the Ràdio Fabra de la Fabra i Coats, a space for reflection and discussion in which the three artists in residence will participate along with the curator Abir Boukhari and Xavier de Luca and Violeta Ospina from Jiser.
On January 23th at 7.30 p.m. at the Centre Cívic Ateneu Fort Pienc the works that have been carried out during the two months of residence in Hangar will be presented. The inauguration will also include a sound session by Juan Manuel Castrillo. The exhibition can be visited until 17 February.
Finally, 30 January 30th at 7 p.m., three artists will participate in Paratext, Hangar's monthly programme in which residents share their projects and work processes with the public.
The BCN>TNS>ALG Creation Residences are supported by Hangar, the Centre Cívic Ateneu Fort Pienc, Barcelona City Council and the Spanish Embassies in Tunisia and Algeria. In addition, it is carried out in close collaboration with Box24, Algiers, Villa Cælestis and the Centre des Arts Vivants de Rades, Tunisia.