Second Feral Writing Grant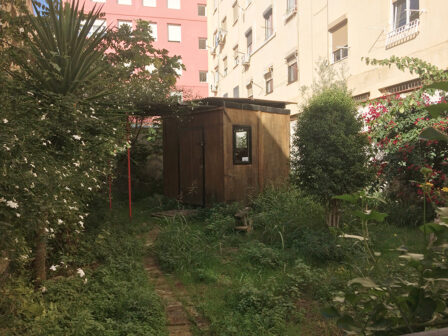 Hangar and La Escocesa announce a grant to carry out a residency during April, May and June 2020 to write, edit and publish an unpublished text in small or medium format. The call is open to all types of writing and editing modalities. From now until 26 January 2020 at 23:59 (GMT+1), the deadline for submission of applications is opened.
Hangar offers
– A studio in the 250 x 250 cm2 wooden cabin* located at Hangar's garden, with access to the common spaces and the set of tools available in the centre. The cabin can be used at a schedule that is most convenient for the resident.
– €1000 in fees to be paid by the end of the project.
La Escocesa offers
For the formalization of the final publication (fanzine, sheet, comic, magazine, booklet) it is possible to use a risography machine from La Escocesa. This is a printing process that uses as a basic principle the transfer of ink through a stencil (master). This technique prints one colour at a time (red, black, pink or blue) on spot inks and cold printing. Printing with a laugh requires being open to "embracing the nature of the beast" rather than forcing it to act as it happens with other techniques. In La Escocesa there are also basic binding tools. Production and manipulation will be carried out by the authors with technical support from La Escocesa. The publication will have its online version.
Application process
The candidate must send a single document not exceeding 10 pages in PDF format to carolina(at)hangar.org, with the subject line «Convocatòria Beca Escriptura silvestre 2020».
This document should include:
– Personal data (name, surname, date of birth, postal and e-mail address) of the applicant
– An explanatory summary of the project that will be carried out during the residency, specifying the writing, editing and design needs of the publication. Maximum length: 3000 characters with spaces included
– A previous text (published or not)
– A motivation Letter
– Work schedule
Deadlines
Receipt of applications: until 26 January 2020 at 23:59 (GMT+1)
Resolution: end of February 2020
Selection process
The selection committee will consist of one member of the Programme Comitee and two members of the Hangar team, as well as two members from La Escocesa.
The selection committee may conduct interviews with the selected candidates if deemed appropriate.
Evaluation criteria
– The selection criteria will be based exclusively on the quality of the texts presented
– Career and curriculum vitae will not be taken into account
– No age or nationality restrictions
– There is no restriction on the language of the publication but the texts presented must be in Spanish, Catalan or English
Calendar and duration
This grant is to carry out a residence that has a minimum duration of 6 weeks and a maximum of 3 months from April 2020.
Commitments
– Make a public presentation within the framework of Paratext
– Publish the text in a free license
– Include Hangar and La Escocesa logo in the publication
In order to know Hangar and to solve doubts you can come to our informative sessions.
Contact
Carolina Jiménez
carolina(at)hangar.org
Telephone +34 93 308 4041 ext. 22
* The Cabin was built by Pep Vidal to finish his doctoral thesis.