Dave Mg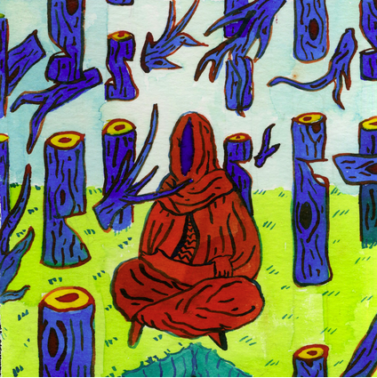 Dave Mg, Badalona 1994.
Period of residence: May 2017
He is an artist focused on visual narrative and sound. He eats Cheerios with milk every morning and wears a cap from winter to spring.
He explores the limits of narration by mixing fiction and reality through the development of his cosmogonies. He works with self-imposed restrictions and uses cut up as a creative method, mixing illustration, music, video or performance, generating links between the internal and external. Most of his work is often self-published for his eagerness to control every stage of the process, obtaining modest and honest results.
In June 2017 he will get a degree in Art and design at the School Massana. He studied illustration for 6 months at the university Sint-LUCAS school of arts (2016). He has won the first prize of the contest Cruïlla Barcelona "Creative proposals for the festival", he has participated in the VI edition of the experimental print seminar Xavier Nogués (2015). He has won two merchandising collection awards for Gaudí's exhibitions in Korea (2014).
In addition to his individual work as an artist, he is part of the group La Modesta (mobile fanzines library). He is the graphic designer of the experimental musician Creț, co-founder of the collective graphic music Alquimia (2016-2017) and has performed grafic-musical performances at Blueproject, Heliogàbal, Màgia Roja, etc. together with the musician Ubaldo (2015-2014).
https://www.instagram.com/deiffmg/
https://www.facebook.com/Dave-DeVos-903008329718891/?fref=ts