Elnaz Salehi
Exchange Grant between Hangar-Kooshk Residency
November 2017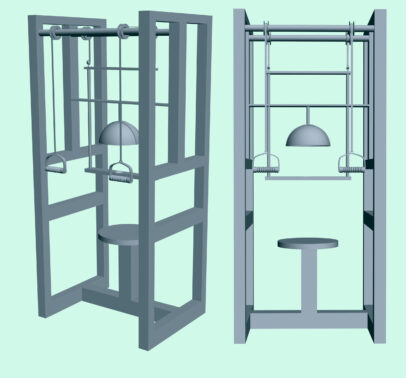 Elnaz Salehi, Iran, 1987.
In her work she confronts sculpture as an operational product; something that can be used although in an absurd, meaningless or cruel way. She is interested in reproducing devices, instruments and objects which are just not constant. The apparatuses that are made based on human being's unlimited imagination. She likes to research on those setups and change them in her own way. She likes to freely play with objects and transform their utilization by her civilized fantasies, in a metaphorical and satire way.
She describes her work as an ongoing investigation on materials and forms both in 2d and 3d; while drawing an object in 3d softwares to be rendered, she also deals with the circumstances of representation.
Elnaz holds a BA in sculpture from Tehran Fine Art University. After graduation till now she run a collective studio with other artists in suburbs of Tehran. She participated in two group exhibitions in Tehran(Aran Gallery-2013 and Lajevardi Gallery-2015), she was also selected for Edinburgh Iranian festival in Scotland(2014), Tehran Third Urban Sculpture Biennial(2012) and Tehran Urban Visual Art Festival(2009).
http://elnazsalehi.wordpress.com/