Black Quantum Futurism
Research and production grant part of the Collide programme - Arts at CERN & Ajuntament de Barcelona, BCN Fàbriques de Creació, Hangar
October - December 2021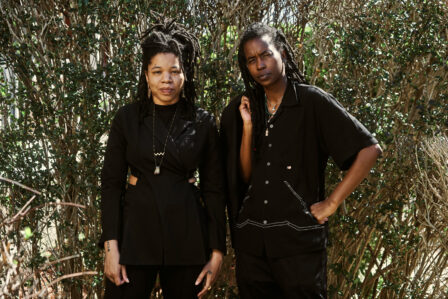 Black Quantum Futurism (based in Philadelphia, PA) is an interdisciplinary creative practice between Camae Ayewa and Rasheedah Phillips that weaves quantum physics, afrofuturism, and Afrodiasporic concepts of time, ritual, text, and sound and creating counterhistories and Black quantum womanist futures that challenge exclusionary, mainstream versions of history and future.
Black Quantum Futurism has created a number of community-based projects, performances, experimental music projects, installations, workshops, books, short films, zines, including the award-winning Community Futures Lab and the Black Woman Temporal Portal.
BQF Collective, as part of the program Collide, is a 2020 CERN Artist Residents,2020-2022 Vera List Center Fellow, 2021 Knight Art + Tech Fellows, 2018 Velocity Fund Grantee, 2018 Solitude x ZKM Web Resident, 2017 Center for Emerging Visual Artists Fellow, 2017 Pew Fellow, 2016 A Blade of Grass Fellow, and a 2015 artist-in-residence at West Philadelphia Neighborhood Time Exchange. BQF has presented, exhibited, and performed at Red Bull Arts NY, Chicago Architecture Biennial, Village of Art and Humanities, Manifesta 13 Biennial, ApexArt NYC, Philadelphia Museum of Art, Vox Populi Gallery, Painted Bride Arts Gallery, Open Engagement, MoMA PS1, ICA London, Metropolitan Museum of Art, and more.
Camae Ayewa (Moor Mother) is a national and international touring musician, poet, visual artist, teacher, and workshop facilitator, and has performed at numerous festivals, colleges, galleries, and museums around the world, sharing the stage with King Britt,Roscoe Mitchell, Claudia Rankine, Bell Hooks, and more.Camae is a vocalist in three collaborative performance groups: Irreversible Entanglements, Moor Jewelry and 700bliss.
Rasheedah Phillips is a queer housing attorney and policy director, parent, interdisciplinary artist, writer, and cultural producer. Phillips is the founder of  The AfroFuturist Affair, a founding member of Metropolarity Queer Speculative Fiction Collective and co-creator of Community Futures Lab.
Image by: Gene Smirnov –  genesmirnov.com
In collaboration with: