Brisa MP
Interaction Lab Residence Grant
September - November, 2019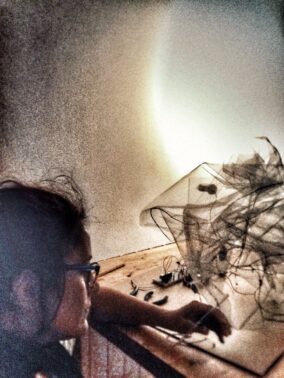 Brisa MP. Santiago de Chile, 1975.
Transmedia artist, graduated in Visual Arts with studies in dance. Postgraduate in Visual Culture from the University of Barcelona and with a master degree in Technology and Aesthetics of Electronic Arts at UNTREF in Argentina.
Brisa MP has developed several researches about movement, from the cross between body-technology as a research space for new interactions and specific gestures from the human interaction-technological devices. She highlights the processes of artistic creation unveiling the technical procedures and collaboration. She manufactures her own tools and devices, giving special importance to the crafts, the recycling, the communities of free software-hardware in which she supports her work of the last years.
Her work encompasses multiple formats, ranging from video, installation, digital graphics to computer processes, electrochoreography, performance, site-specific works and reflective articles.
She has participated in festivals, congresses and others, in countries such as: Australia, Portugal, Monaco, Sweden, Germany, Estonia, Spain, Cuba, Costa Rica, Brazil, Paraguay, Argentina and Chile.
In 2014 she made an international residency in Hangar with her project and research PROTOBODY, she has made residencies in Centro Huarte (Pamplona), ZéDoisBois (Portugal), eTOPIA (Zaragoza) and Espai Maker del Convent Sant Agustí and Barceloneta (Barcelona).
She has participated in collaborative projects such as Metabody, European Culture project (2013-2015) and Colaboratorio Festival Internacional de Danza de Navarra. DNA (2017).
www.caidalibre.cl
www.cuerpoytecnologia.cl
Past residencies
june – july 2014