Mariana Portela Echeverri
Short term residency
October - December 2021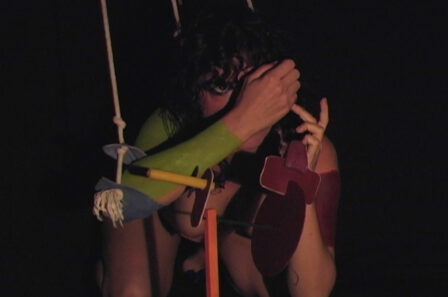 Mariana Portela Echeverri, 1986, Paris
is a Portuguese-Colombian artist whose work explores the languages of the body from a dreamlike and experimental lens.
Her interdisciplinary artistic practice, her sculptures, texts, machines, installations and drawings create fluid environments where risk, desire and the child's universe find a common space full of games and traps. She has recently launched her project Deseo, Lengua y Furia where she runs courses and interviews, among other projects, around the theme of eroticism and transgression in art, film and literature.
She graduated in Fine Arts at the University of Barcelona (2009) where she was strongly linked to the post-porn art movement collaborating with numerous collectives and artists, among them Shu Lea Cheang. In 2016 she completed an MFA in Fine Arts, from Goldsmiths University of London.
Her work has been exhibited internationally at venues such as Sesc_Videobrasil Contemporary Art Festival (BR) and ICA-Institute of Contemporary Arts of London (UK). In 2019 she was awarded the Latin American Artist Research Grant from Pivô Pesquisa (São Paulo) attending their artist-in-residence programme. She is currently the recipient of the Hangar Production Grant (Barcelona).